Toss all preconceptions of the Cisco Cius out the door. This is not just another Android tablet. Instead, Cisco has taken great pains to position the Cius as a very different type of tablet, and one whose primary purpose lies less in competing head-to-head with the tablet masses, and more at changing how corporate America does business.
Cisco aims the Cius squarely at large enterprises, companies whose pockets are deep and whose workforces are scattered and thus crave the easy visual communication the Cius aims to provide. That said, the device's seamless visual communications, coupled with Cisco's support, could offer a lot to smaller businesses that have far-flung staffers, too. It also is ideal for vertical industries that are developing an Android-based app infrastructure, and for healthcare and other organizations that rely heavily on videoconferencing.
The Cius tablet, while it can be used on its own, is really intended to be employed in conjunction with the "media station" dock that Cisco sells separately and that turns the Cius into an office workstation and an advanced telecommunications system in one. The media station has no price as yet, but the tablet will cost between $650 and $750 and will not be sold via retail; pricing will depend in part upon the volume sold and other incentives. The model here is the Wi-Fi-only variant; a 4G version is expected from Verizon in the fall.
See close-up pictures of the Cius here.
It would be easy to dismiss the Cius on numerous counts when comparing it with, say, the sexier, larger-screen hardware of Apple's iPad 2 or any of the less sexy Android competitors. It's heavy, it's thick, and at launch, it's running the Android 2.2 (Froyo) operating system.
But with the Cius, Cisco has no designs on competing with the iPad or almost any of the Android tablets–consumer devices that may find their way into the enterprise, less by virtue of a company actively deciding to use the technology than by individuals approaching the IT department asking how to get onto the company's network with their shiny new toy.
Instead, Cisco has its sights set on larger-scale deployment at the company level. The scalability of the Cius is limited only by the server infrastructure of the company implementing the system, up into the tens of thousands of users. The Cius tablet can serve as a communications hub and virtual desktop interface, too. Collaboration and video conferencing goes to a whole new level with the Cius: Think of it as an advanced video phone that can also play Angry Birds–and run custom-designed apps. It's mobile office communications with a twenty-first century twist.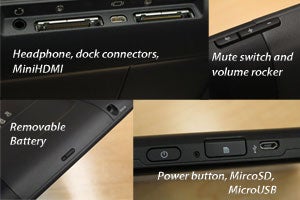 As a tablet, the Cius doesn't physically distinguish itself through its stylish design. It measures 8.9 by 5.5 by 0.6 inches and weighs 1.15 pounds–heavy by 7-inch tablet standards, but not so heavy as to discredit it from being a mobile device. The Cius is obviously optimized for use in landscape mode; in that orientation, the video camera is centered above the display, and the speakers are positioned below it, with three physical Android navigation buttons. The menu, home, and back buttons are contoured and well-defined. At back, an indentation beneath the battery houses some of the inputs (headphone jack, two docking station jacks, and a Mini-HDMI port).
When handling the tablet, I found the indentation for the ports was actually a convenient resting point for my fingers.
Along the top of the tablet is an oval-shaped power button, the dual-array echo-canceling microphone, a microSD card slot under a sturdy lid, and a microUSB port. The left edge has a curved up-and-down volume button and a mute button; the right side is largely devoid of inputs, with just a slider to release the removable battery, and an AC input.
The inclusion of a removable battery is an important one for businesses and vertical environments; time and again, I hear a call for batteries to be user-replaceable, as it minimizes downtime. Cisco says the battery should last about 8 hours for "business" use, which it defines as video calling, some Web browsing, Cisco WebEx collaboration calls, email, and staying in standby mode during meetings.
In Video: First Look at Cisco's Cius Tablet
Next page: A closer look at the hardware and software of the Cius.
Inside the Cius
The Cius tablet is the first to use Intel's Moorestown CPU, a single-core, 1.6GHz chip for low-power mobile devices. It has 1GB of memory; 32GB of on-board storage, expandable via the microSDHC card slot; and hardware acceleration for h.264 video. At back is a 5-megapixel camera, and up front is a 2-megapixel 720p video camera. Wireless connectivity options include 802.11a/b/g/n Wi-Fi and Bluetooth built in. The micro-USB port and microSD card can be disabled by IT managers, as can the front and rear cameras and the Bluetooth and Wi-Fi capabilities.
The HD Media Station adds gigabit ethernet, three USB 2.0 ports, a 3.5mm headset jack, a switch port for Power over Ethernet (PoE), and DisplayPort.
Cisco says it's using a fairly stock varietal of Android 2.2, though the home screen on the Cius tablet will look unfamiliar. Some of the icon images are changed, the phone icon has been moved to the otherwise standard touch menu, and the Cisco software is front-and-center on the home screen, as is a custom widget that serves as a unified inbox.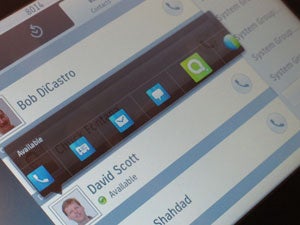 The base install of the Cius includes the core Cisco apps that are at the heart of the Cius: Unified Inbox, Phone, Chat, Email, Calendar, and Contacts. Video phone calling is integrated directly into the phone app, and ties into Cisco's TelePresence video conferencing systems; also installed is the Cisco WebEx web-conferencing app. These apps were written by Cisco to provide deep integration among the various modes of communication.
Throughout these custom apps is a handy communications ribbon that simplifies jumping among the apps, moving from chat to email to phone. So, for example, I could send an email or instant message during a phone call. These apps run in real time in the background, and IT managers can set the policies to give resource prioritization to these real-time apps over other installed Android apps. The software is smart enough, however, to allow you to control interruptions; for example, it can redirect calls if you are in a do-not-disturb state. Cisco will supply an SDK to go along with its tablet, to make it easy for developers to tap into its collaboration tools.
This kind of seamless integration is where the Cius's differentiation from other tablets lies.
Part of the base installation of the Cius is Quickoffice, for reading Microsoft Office apps. If you want full-bore editing, though, your company would need to buy that license separately, or buy another app via Cisco's App HQ store. App HQ will offer apps that have been vetted by Cisco to work on the Cius, and to be malware-free. The App HQ infrastructure, for a fee, will enable companies to create custom stores for employees; the benefit here is that employees can then download customized Android apps for company-specific applications, or download apps that the IT department has already licensed, all without having to enter personal credit card info.
For security, Cisco builds in data encryption, support for the Cisco AnyConnect Secure Mobility VPN client, remote wipe options, and a host of security protocols at the network access level.
The Cius's Unified Inbox Widget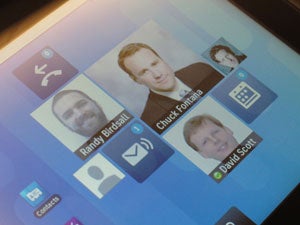 The unified inbox widget dominates the front home screen of the Cius. Up to five contact images, pulled from the corporate directory, dominate the widget; the largest image indicates the most recent communication. It also shows the contact's availability on chat, email, and phone. You can also see missed calls, voicemails, and upcoming meetings. The voicemail list is visual, so you can listen to messages in whatever order you choose.
Movement was smooth and fairly logical between apps, once I got the hang of what to look for and how to navigate. That the Cisco suite of apps function smoothly in the background underscores the real-time nature of the tablet's multitasking; what I wasn't able to test during my hands-on was how the real-time communications apps survive resource stress from other Android apps loaded up simultaneously. The Cius experience is a long way from a standard office PBX, or, for that matter, a smartphone or tablet that lacks an inter-app communication ribbon.
To enable the Cius and Android 2.2 to work with the docking station, Cisco wrote its own drivers to support USB host devices, as well as a mouse and keyboard, and to do tasks that business users might expect, like right-mouse action.
The 7-inch tablet has 1024-by-600-pixel resolution, and outputs video via mini-HDMI. Or, when docked in the HD Media Station, it can output upscaled video via DisplayPort. Sadly, the tablet's output looks disappointing: Text was grainy and overblown, a situation made even worse because Android 2.2 isn't optimized for scaling to large screens. In the initial release, Cisco says the Cius will support mirrored display presentation, so that what is on the tablet is shown on a larger, attached LCD. In the future, Cisco is looking at providing a "presentation mode," so applications on an external display will be shown at a higher resolution than what the Cius itself supports.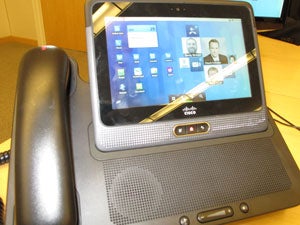 And while Cisco sees the Cius as a potential full-bore mini-workstation for employees to do e-mail, update calendars, send documents, and more (otherwise, why have the video-out capability and USB support for host devices, mouse, and keyboard?) the company doesn't see it as a replacement for a desktop.
Much remains unknown. Cisco expects to sync its update cycle with Google's Android OS update cycle, but the company will ultimately control how quickly a new OS will roll out, as does any other hardware maker using the Google Android OS. We don't know how long Cisco plans to keep the hardware active, either, which may be an issue for corporate purchasers who may treat the tablet more like a computer infrastructure purchase than like a video conferencing service. And we'll have to see just how smoothly the transition of OS updates will be, and how that might affect companies' independently maintained applications.
But for all the unknowns, it will be interesting to see how well Cisco's Cius gains traction in the marketplace. It feels as if this tablet may be touching on the tip of a bigger need in business–simply by rethinking how a tablet could be optimized for business use.