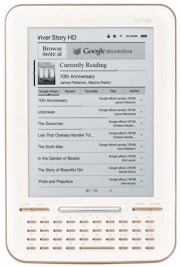 With the new iRiver Story HD e-reader, Google's digital bookstore is finally getting the E-Ink treatment.
The Story HD is the first dedicated e-reader to integrate Google's eBookstore, using a built-in Wi-Fi connection to download digital books. It launches this Sunday at Target for $140.
Until now, the Google eBookstore has been available through the Web and through apps for Android and iOS. E-Readers that support Adobe Digital Editions, such as Barnes & Noble's Nook and Sony's Reader, can load Google eBooks from a PC, but they can't download them directly onto the device. The launch of a dedicated eBooks reader puts Google's store more directly in opposition to the Nook and Amazon's Kindle.
iRiver, meanwhile, hopes to differentiate its e-reader with a 6-inch, 768-by-1024 resolution display, which according to the company provides 63.8 percent more pixels than the competition. The Story HD also includes a QWERTY keyboard, three weeks of battery life, and support for both ePUB and PDF formats.
Competition
But there's no shortage of stiff competition in the dedicated e-reader market. Barnes & Noble and Kobo both recently launched touch screen e-readers for $139 and $130, respectively, and Amazon has found success with its $114 Kindle With Special Offers. The ad-subsidized e-reader, which sells for $25 less than its Kindle counterparts, is the most popular model on Amazon's Website. (Surprisingly, Google isn't using its own ad prowess to subsidize the Story HD.) And although Google prides its bookstore on accessibility across many devices, its e-reader rivals are doing exactly the same thing.
Still, people who've invested in Google's e-book ecosystem–Android tablet users, most likely–may appreciate having an E-Ink option available for those sunny days when a backlit screen simply won't do. The more competition on that front, the merrier.
Follow Jared on Facebook and Twitter for even more tech news and commentary.
Kindle with Special Offers (Wi-Fi/3G, 3rd generation)