What do you do if you're a newspaper facing declining subscription revenue as people increasingly turn to digital methods of consumption? If you're two Philly newspapers, you follow that old adage: "If you can't beat 'em, join 'em."
Philadelphia Media Network, which owns the Philadelphia Inquirer and the Philadelphia Daily News, along with the companion digital property Philly.com, is turning to tablets to help supplement its lost revenue. The company is launching a pilot program in which it will sell discounted Android tablets with built-in content.
Philadelphia Media Network will make about 2,000 devices available in the initial push next month, with a second rollout before the year is out. Ads will appear on the tablet's home screen, with plans to later target the content towards specific demographics.
According to AdWeek, the test program is expected to run "in the six figures" and is believed by company execs to be the first of its kind. Apps for each newspaper will appear on the device's home screen, along with links to Philadelphia Media Network's web properties.
Pricing hasn't yet been decided, but the company hopes to offer the content-tablet bundle for about half of the full retail price (the papers' digital editions currently cost $2.99 per week). Philadelphia Media Network probably hopes to make up for the initial cost of the tablets with revenue from digital subscriptions.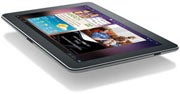 A newspaper actively promoting digital adoption is a wise move. Thanks to the new tablet craze, print subscriptions are likely to decline even further in the coming years, and so it's good to see that print media is starting to get with the times.
While some people might be bothered by the fact that the company plans to sell advertising on the device, consider the solid sales of the ad-supported Kindle. Many do not mind the intrusion of ads if it means getting a device at a discounted price.
I do hope they consider an ad-free solution, though.
For more tech news and commentary, follow Ed on Twitter at @edoswald and on Facebook.