Every major platform now has a cloud solution to call its own, and Ubuntu Linux is no exception. UbuntuOne has evolved into a worthy alternative to Dropbox, and it comes as part of the default installation with Ubuntu. Now Android users can download UbuntuOne Files to bridge the gap between their phone and their Ubuntu PC.
It's worth noting up front that the UbuntuOne cloud service doesn't actually require Ubuntu. It just works best with Ubuntu, offering a seamless folder and file management experience for Ubuntu users. But if you're on a Windows PC or a Mac, you can still use the Web interface to upload or download files to or from UbuntuOne.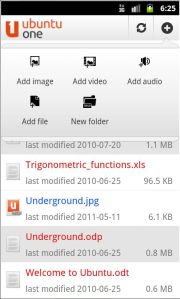 Download the free UbuntuOne Files app from the Android Market, and you'll get immediate access to whatever files you have stored on your UbuntuOne cloud account. The app has a built-in photo viewer, and hands off other file formats to your default viewer for any given file type. So in my case, Office files I've stored in UbuntuOne open in QuickOffice on my Android phone.
If you have a premium UbuntuOne account, such as the $4 per month UbuntuOne Mobile package, you can also add the UbuntuOne Music app to stream unlimited hours of music to your phone from your UbuntuOne account (additional storage not included).
While I remain fond of Dropbox, the service's recent security gaffes have understandably left many users looking for good alternatives. If you're an Ubuntu enthusiast, this might be the right alternative for you.