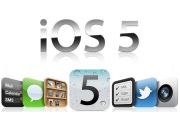 Yesterday, Apple seeded iOS 5 Beta 3 to developers. The latest beta brings performance and stability enhancements as well as more of the promised 200+ new features. Here is just a glimpse at some of the latest iOS 5 beta goodness.
Camera
Camera.app loads 2-3x faster than in previous iOS versions. Even though you still can't open the camera directly from the lock screen, it's easy to envision going from pocket to photo incredibly quickly. Photos snap lightning fast, so in conjunction with the physical button shutter, (or headphone remote) you can take approximately 5-6 photos in a second!
Location Services
If you were at all concerned with location privacy after the whole location tracking debacle earlier this year, iOS 5 brings a huge deal of customization with Location Services. Previously you could only toggle location services for individual apps or turn it off completely. Now, you can toggle system services such as "Cell Network Search," "Diagnostics & Usage," and "Location-Based iAds."
Minor Tweaks
As iOS 5 gets nearer to completion, more minor features continue to crop up. For the sake of brevity, here are just a few of the minor changes that appeared with iOS 5 beta 3:
-Voice Roaming Toggle (previously you could only switch on/off data roaming)
-Two new ringtones: Sherwood Forest & Tweet
-Create a mailbox directly from Mail.app
-In-app Software Update displays current iOS version
-Custom Text Tones
-Assistive Touch menu (more info here)
[via CultOfMac, iPhoneHacks]
Find a new feature in iOS 5 Beta 3? Use the Comments!
Mike Keller is PCWorld's resident iOS nerd. Catch Diary of a Developer every Tuesday here at GeekTech.