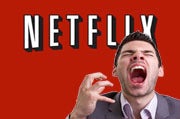 Netflix users stormed the streaming video and DVD rental services' blog and Facebook page by the thousands on Tuesday to criticize a new pricing structure that will raise some users' monthly bill by 60 percent.
The service announced that it would separate its streaming and DVD rental services, ostensibly to let its users choose if they wanted just one service or both. The result: The $9.99 per month plan, which allowed one DVD out at a time and which currently includes unlimited video streaming will jump to $15.98 under the new price structure. Unlimited streaming or one DVD out at a time will now cost $7.99 each.
Netflix users weren't too happy to receive the news.
Users left nearly 3,000 posts on the Netflix blog as of 6 p.m. Tuesday and around 10,000 comments on the company's Facebook page. Commentors accused Netflix of being greedy and alleged it was trying to "choke more change" out of its customers. Others suggested refreshing the streaming content to justify the price change. Others said they would be leaving Netflix.
Comment Highlights
I like the split but I think charging full price for both is going to lose y'all a few customers. I love having the option for both streaming and DVD but I'm not willing to cough up $16 a month for it.
A 60% price increase! Not many companies are bold enough to increase prices by 60% in these economic times. I hope the streaming selection gets a whole lot better. I've been buying a lot of videos from Amazon Instant Videos because Netflix doesn't have them; maybe I need to switch to Amazon for my streaming, too.
This price change wouldn't be so bad if you put more movies on streaming. Right now the streaming option is loaded with stuff nobody would ever rent.
This is a horrible deal for current customers. You're going to be losing a lot of business with this decision.
The thousands of comments left on the Netflix Facebook page Tuesday struck similar themes.
The Power of the People?
It's clear by the social media outrage that Netflix has some thinking to do about its new pricing structure. With thousands of customers upset and many threatening to leave, it might be in the best interest of Netflix to offer a bundle deal for those that want DVDs by mail as well as instant streaming. If the company doesn't offer that or something similar, it may have a mass exodus on its hands come September 1 when the new pricing kicks in for current members. New subscribers already will pay the price–unless Netflix blinks.