Google recently released a new Android Market app for Android 2.2 or higher that makes it a snap for U.S. users to rent movies and purchase e-books. Android users have been looking forward to movie rentals on their phones ever since Google announced the service during Google I/O in May. Tablets running Android 3.1 are already enjoying the feature, but with the new Market app Android smartphone users can finally get in on the movie rental action, starting at $1.99. Book purchases are also a long time in coming to smartphone users as the feature debuted in the Web version of the Android Market in February.
To get started with movie rentals you need to download a new videos app, which is only available once you get the updated version of the Android Market. Google says the new app is rolling out to users in the United States and worldwide right now so you should be seeing it shortly. Only U.S. users can rent movies and purchase books, but Google says it plans to roll the feature out to select countries soon.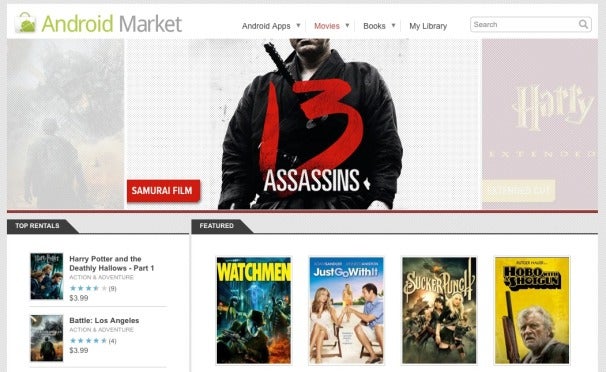 While you're waiting, you can still check out movie rentals and book purchases by visiting the Android Market online. Google says it has thousands of movie titles to choose from, but based on what I saw in the Web version of Android Market the selection is not on par with iTunes. Several top titles from iTunes such as Source Code, Cedar Rapids and The Adjustment Bureau were noticeably absent from the Market. But it's a good bet the movie selection will improve over time. Google says its e-book catalog includes has more than 3 million titles.
New design
The new Android Market app is also scoring big marks from critics for its interface, which appears to borrow from the Microsoft's tiles used in the Windows Phone 7 Metro UI. Google says the new user interface makes it "faster, easier, and more fun to discover great apps, movies, and books." The new market app also includes more top charts, and collections such as staff picks and Editors' Choice apps.
Get the new Android Market now if you dare
If you can't wait for the new Android Market to roll out to your phone, you can download the new app right now through unofficial channels. Several Android-focused blogs including Android and Me and Phandroid are providing links to purported Android Market APK files. Just keep in mind you're downloading and installing the new app at your own risk.
Android Market for phones:
Connect with Ian Paul ( @ianpaul ) and Today@PCWorld on Twitter for the latest tech news and analysis.