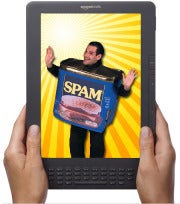 Amazon has added an ad-supported 3G model to its Kindle family of e-readers. The new Kindle 3G with Special Offers is priced at $139 and runs over AT&T's 3G data network. It costs $50 less than the Kindle 3G model without ads. Both e-readers support Wi-Fi and 3G connections.
The "special offers," which include ads and product and gift card discounts, appear on the Kindle screensaver and at the bottom of the home screen. Amazon has been selling an ad-supported Wi-Fi Kindle since April. The Wi-Fi Kindle with Special Offers is $114–or $25 off the regular $139 price.
Interestingly, Kindle 3G users save $50 by agreeing to view ads, while Kindle Wi-Fi users save just $25. Why is that?
Might Amazon chop the price of the ad-supported Wi-Fi Kindle too? IDC reported last week that Barnes & Noble's Nook is now the top-selling e-reader, mostly thanks to the bookseller's popular Nook Color model. Amazon's Kindle has fallen to second place.
Well, Amazon created the e-reader/e-book market, and it won't take this affront lying down. One possible counterattack: "We expect to see $99 e-readers for this holiday season, and a color version this fall," IDC analyst Bob O'Donnell tells PCWorld via email.
Kindle 3G customers don't pay for AT&T 3G service–that tab is picked up by Amazon.
One thing's for certain: The e-reader wars are going to get very interesting over the holidays.
Contact Jeff Bertolucci via Twitter (@jbertolucci) or at jbertolucci.blogspot.com.