30 Days With the iPad: Day 12
As I spend this month on the 30 Days With the iPad experiment, and rely on my iPad as a replacement for my Windows 7 notebook, I still have to keep track of projects and business. Today I am taking a closer look at some of the common business tasks I perform, and how I can accomplish them on the iPad.
I have tried and true solutions that have worked just fine for me on the PC for years. Unfortunately, most of them don't have any direct iPad equivalent, so I have to do some research and find workarounds or suitable alternatives. In that respect, this 30 Days With the iPad is a lot like my 30 Days With Ubuntu Linux–you can accomplish virtually anything, but only with some additional effort and learning curve.
The Apple App Store has more than 425,000 different apps–more than 100,000 of which are optimized to work as tablet apps on the iPad. Apple recently announced that it has sold more than 15 billion apps through the App Store. Long story short, there are enough options available that I should not have any problem finding an app for that.
Keep in Touch
I won't dive too deep into this because I have already covered the topic on Day 8 when I talked about managing contacts on the iPad. On my PC, I just use Outlook, but on the iPad I track my contacts and calendar events in VIPorbit. As I mentioned on Day 8–VIPorbit is unfortunately an iPhone app only for now, but an iPad version is in the works.
Stay on Task
This is another area I have already discussed–back on Day 9 when I talked about to-do lists and task managers for the iPad. So far, I have found that Remember The Milk, or RTM for short, does the trick for me. There are a variety of great options, though, like Bento, or Things, or Taska.
I have Bento, and I like it, but I don't prefer it over RTM. I will take a look at Things and Taska and see how they compare.
Finances
I like Quicken. I have used every version of Quicken since Quicken '99 at least. On my PC, I track my personal finances, and my business finances in Quicken. I do my invoicing and accounts receivable tracking in Quicken. Guess what? There is no Quicken app for iOS.
First, let me say "What the hell, Intuit? Where is the app for iPhone and iPad to let me keep track of my finances on the go?"
OK. Got that out of my system. There are only a handful of apps that come up when searching the App Store for "Quicken", and none of them really do Quicken per se. There are a couple that can import and export QIF files, so basically you can use the app while you are on the go, then sync the data back to Quicken on your PC once you get back to your desk.
That may be helpful on some level, but doesn't let me do invoicing and such, and doesn't work for the scenario where the iPad is replacing rather than augmenting the PC. I figured out that Mint.com–which is also owned by Intuit–will suffice for monitoring personal finances from the iPad. There is also an iPhone app for Mint.com in case I want access to information without a Wi-Fi network, but I still need a business-oriented solution for invoicing.
Just like searching for solutions in the Ubuntu Software Center, though, your results depend on searching for the right thing. I tried a search for "invoice" and got 60 different apps just for the iPad. After a little digging around, I settled on Invoice2go for iPad. It seems to do the trick, create polished looking invoices, and it has tools to let me track payments and reports to help me analyze my business efforts.
Tracking Time
Some of my projects are billed hourly, and even for projects that I am not actually billing on an hourly basis, there is value for me personally in keeping track of how much time is invested in them. On my PC, I use Freshbooks to keep track of it all. Freshbooks is a Web-based tool, so I can use it on the iPad just as I do on my PC.

What about when I am not connected to the Internet, though? Granted, the same issue exists with my notebook when I am on the go, but perhaps there is an app for that. Freshbooks had an iPhone app at one point. I have no idea why it doesn't exist anymore.
There are other options–like MiniBooks Lite–which uses the Freshbooks API to connect and sync with the service. It is an iPhone app–which means tiny app that only works in portrait mode–but it is better than nothing if I need to keep track of my time and don't have a Wi-Fi connection handy.
Business Expenses
This is an area that I typically just use Quicken for on my PC as well. However, with the iPad–and its cameras–there are actually better options, like the Expensify app.
Quicken is a great tool for managing finances and tracking expenses. It lets me attach an image of a receipt for my expenses from a file, from the Windows clipboard, or directly from the scanner. It beats saving all of the receipts in a shoebox, but using the scanner is tedious.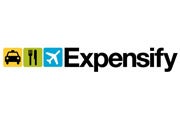 Expensify lets me save a receipts by just taking a picture of it with the iPad camera. It then scans the receipt and automatically populates the expense details–date, amount, merchant, etc. Then, I can go back and edit it with comments, assign it to a category for better organization, or tag it to make it easier to find later.
There are obviously other business functions that can be accomplished on the iPad, and with tens of thousands of apps available there is no shortage of options. Don't take my word for it. Explore the options for yourself.
In a nutshell, I can't find anything so far that I would need to do on my PC that can't be accomplished on the iPad. I am sure such things exist–but they aren't things that I generally do so they don't impact me. As I said earlier, though, it may sometimes feel a little like you are swimming upstream and doing things the hard way when you can't just use the tools you are already familiar with.
Read the last "30 Days" series: 30 Days With Ubuntu Linux
Day 11: Using a Physical Keyboard With the iPad