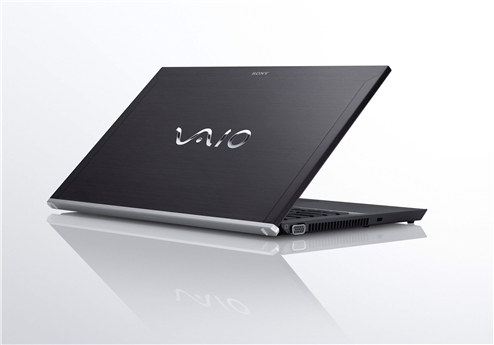 Sony's much-anticipated VAIO Z series laptops are finally available for purchase. Boasting a thinner profile than Apple's MacBook Air, and the dubious title of "world's lightest 13-inch standard voltage PC," the VAIO Z series packs some impressive hardware specs and comes at a premium price.
The aluminum-and-carbon-fiber laptop is just 0.66 inches thick and weighs 2.5 pounds–that's slightly thinner than the MacBook Air and one fifth of a pound heavier. But the Sony VAIO Z has something the MacBook Air does not have (and will likely not have, even after the anticipated refresh): the ability to transform, via an optional dock, into a more powerful workstation.
The Power Media Dock gives the VAIO Z acces to an AMD Radeon HD graphics card with 1GB of dedicated video RAM–four times that of the current MacBook Air–a Blu-ray disc drive, three USB ports, and support for up to four HD displays. The dock, which was unveiled in Europe late last month, also incorporates technology that Apple pioneered: Intel's Light Peak technology, a.k.a. Thunderbolt.
Even without the dock, the Z series boasts some high-end features, such as two HD display options (1920 by 1080 pixels, and 1600 by 900 pixels) and dual-channel SSD with RAID on select models. The Z series also gives you the option of doubling the 8-hour battery life with an extra battery slice. VAIO Z Series models are available with second generation Intel Core i5 and i7 processors.
All of this comes at a price, of course (you can't make a laptop out of race car material without incurring some costs): about $2000, which is several hundred dollars more than Apple's current 13-inch MacBook Air. It looks like Sony is attempting to steal the ultra-premium, ultraportable title away from both Apple and Samsung–whose Series 9 laptopv
is currently the reigning Windows challenger in the category.
Follow Melanie Pinola (@melaniepinola) and Today@PCWorld on Twitter