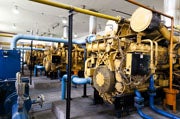 Some residents of Quincy, Washington, home of massive data centers operated by Microsoft, Yahoo and others, are growing concerned about pollution from backup diesel generators at the data centers, and on Wednesday they'll have the chance to discuss the issue.
The Washington State Department of Ecology is holding a public meeting on Wednesday evening in Quincy for residents to comment on an application from Dell for permission to use 28 generators powered by diesel engines.
Quincy, a town of around 6,000 people, will have 141 back-up generators once those belonging to Dell, and others that have been permitted or are in line for permission, are put in place. While the generators are designed to be used only in the rare case of an electricity outage, the data center operators turn them on regularly for testing.
On average, the companies are permitted to turn on each generator for 103 hours per year. If they use that maximum running time, data center generators in Quincy would run for the equivalent of 40 hours per day on average.
The Department of Ecology says diesel emissions, when breathed in, have been known to create or worsen a variety of health problems, including heart disease, asthma and lung cancer.
Some residents, including former mayor Patty Martin, wonder about the health impact of the diesel emissions on the community. She thinks the generators should use the same types of devices to reduce emissions that are required by other Washington cities such as Olympia and Moses Lake.
Such devices aren't necessary in Quincy, said Karen Wood, section supervisor for air quality in Eastern Washington for the Department of Ecology. Because Olympia is a much bigger city it already has high diesel emissions from other sources, so a new data center there was required to reduce its emissions, she said.
"Whereas in Quincy, the background emissions are very low. There's not a lot of industry there. And the wind blows 325 days a year," she said.
Each time one of the data centers applies for permits to add new generators, Ecology studies the impact, taking into consideration diesel emissions from nearby sources such as trucks and the railroad, the agency said. It models the emissions based on the maximum permitted use of the generators to determine if they will cause pollution that harms nearby residents.
Still, Martin worries that many people in Quincy may not be aware of the potential risks of the emissions. "The people have to say we're willing to accept the risk based on the benefits. But the people don't know what they are," she said.
According to Martin, nearly three-quarters of the population of Quincy is Hispanic, yet most of the public notices about the data center permission process are posted in English newspapers. Earlier this year, Ecology said it ran ads about meetings regarding Yahoo's request to add new generators in the local Spanish language newspaper, but it later admitted the ads weren't published due to an error.
However, Wood said Ecology has done more outreach about these permits than it has for any others. It has bought display ads in several newspapers and issued news releases, and recently began placing ads in the Spanish-language paper, she said.
Ecology has another public meeting scheduled for Aug. 3 about a permit request from Sabey for 44 diesel generators.
Martin, who is one of a handful of residents asking questions about the generators, doesn't have high hopes for the meetings. "I've been to two so far on this and they downplay the risks," she said. She thinks that Ecology disregards some important risks like the impact from deposits into the soil from the emissions and risks beyond cancer.
Dell did not comment directly about the concerns being raised in Quincy. "Dell is very much looking forward to being part of this community. Our commitment to the environment and safety is a leading priority in the communities where we work and live," it said in a statement.
Nancy Gohring covers mobile phones and cloud computing for The IDG News Service. Follow Nancy on Twitter at @idgnancy. Nancy's e-mail address is Nancy_Gohring@idg.com