When Google VIPs locked down their Google+ accounts this week limiting the amount of personal information shared with the public many users of the nascent social network took note and demanded access to the same privacy controls. On Wednesday Google+ flipped the switch allowing any Google+ user to apply stronger privacy controls on their Google+ account limiting what others Google+ users and the public can view.
Video: How to Set Google+ Privacy Settings
Here's a step-by-step tutorial how to lock down your own Google+ profile:
Get Started
If you haven't touched privacy settings for your Google+ account, your profile page should look something like mine (left).
Anything you filled out is available for public consumption, including people in your circles.
Step one in the lockdown is to go the top of your browser window and click on your name and photo (immediately to the left of the notifications). Click on Privacy in the dropdown menu.
A new page will open. In step two, the next thing you want to do is click on "Edit visibility on profile." It should be directly below your profile photo and to the right of the paragraph on "Public profile information."
You should be taken back to your profile page. This time, clicking on items will bring up privacy options that will allow you to make items visible to everyone on the web, extended circles, your circles, a subset of your circles, or only to yourself.
Honestly, it's a little clunky. You have to click on each individual item to set its permissions. But hey, it gets the job done.
Hide Circles
To hide your circles from public view, click anywhere on the circles grid below your profile photo. Unchecking both boxes will completely hide your circles from everyone. You can also specify to show some circles and not others.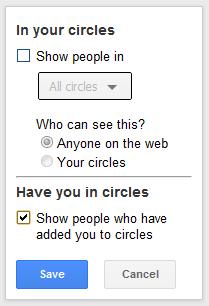 You can do the same with each of the fields in your profile, including making each field available to specific circles.
The one exception at the moment is gender. Google announced it will allow users to conceal their gender on their profiles, but the feature hasn't been made available to everyone yet.
After everything is locked down, your profile should look like mine.
Sure, you're not going to win any popularity contests, but you'll be able to keep some personal information away from social media stalkers, co-workers, and/or your family.