A posting on a British job site has ignited speculation that Apple is getting set to launch the next iteration of the iPhone as early as August 16. '"Apple…[is] seeking full-time iPhone Sales Staff for an exciting project … for the period 16th August – 28th October," the posting reads on Reed.co.uk. The job ad does not specify why Apple needs more iPhone sales staff or mention a forthcoming iPhone. Gekko, a U.K. recruitment firm, is handling the hiring for Apple and has ads on Reed for various locations throughout the U.K. The ad was first reported by CNET UK.
Apple has yet to confirm the existence of the next iPhone, but the company does plan on launching iOS 5 this fall. Most critics expect Apple to release a new smartphone alongside the iOS 5 release. Current iPhone 5 rumors suggest the next Apple handset will feature the company's dual-core A5 processor, an 8 mega-pixel camera, and possibly a new "teardrop" form factor. One bone of contention among Apple watchers is whether the next iPhone will be called the iPhone 4S or the iPhone 5.
August 16?
It's a pretty safe bet that Apple needs to increase its sales staff in advance of a new iPhone launch, and the U.K. is usually one of the launch countries for a new iPhone. But Aug. 16 might be a bit early for an iPhone launch. First of all, that's a little more than one month away, and most reports are expecting the next iPhone in September at the earliest. There's also the question of whether Apple would want an army of new employees handling the cash registers and working the sales floor on an iPhone launch day. If these new hires really are for an iPhone launch, it seems more likely they will have a few weeks to get in some practice time before the big day hits.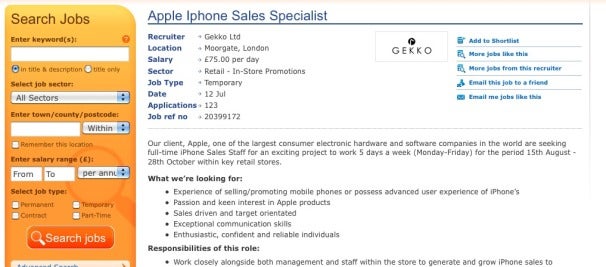 It's also not clear whether iOS 5 will be ready for August. The new iOS software is currently at beta 3 and most reports claim the new OS is getting better but still buggy. In 2010, iOS 4 reached gold master status after four beta versions and more than two weeks before the June 24 launch date. If iOS 5 follows a similar schedule, that would put a gold master seed in the hands of developers by mid-August for an early September launch.
Whether Apple has anything planned for Aug. 16 or not, it appears an iPhone launch date may be coming soon. After all, September is less than 50 days away.
Connect with Ian Paul ( @ianpaul ) and Today@PCWorld on Twitter for the latest tech news and analysis.