At a Glance
Expert's Rating
Pros
Excellent business and travel features
Great physical QWERTY keyboard
Cons
No 4G
Camera is just average
Low-resolution display
Our Verdict
The XPRT has the features and the keyboard to please any business or IT professional, but its small display will turn off multimedia junkies.
If you feel sure you've seen the Motorola XPRT ($130 with a two-year contract from Sprint; price as of July 14, 2011) somewhere before, that's because it is essentially Sprint's version of the Motorola Droid Pro for Verizon. The design is slightly different and, of course, you'll find Sprint branding and apps all over it, but the XPRT keeps everything we love about the Pro. If you're an Android fan who needs BlackBerry-like functions, you'll be happy with the XPRT.
(Editor's note: Parts of this review were taken from our Motorola Droid Pro review , as the XPRT is virtually identical).
Familiar Design
If you glance at the XPRT, you may well mistake it for the Droid Pro–the two phones are nearly identical. If you look more closely, however, you'll notice some differences. The XPRT is a little squarer (literally, not figuratively!) at the top; it has chrome trim around its front; and it has a soft rubberized battery cover rather than a plastic back like the Droid. I definitely prefer the XPRT's subtly textured battery cover to the Droid Pro's; it feels higher quality.
Like the Droid Pro, the XPRT has a BlackBerry-esque physical keyboard designed for one-handed texting. The XPRT's keyboard goes to the edge of the phone, whereas the Pro's keyboard has a border around it. The keyboard seems a bit narrow, but it's fairly easy to type on. The keys are nicely sculpted (and remarkably similar to those on newer BlackBerry models such as the BlackBerry Torch), with a curved ridge across the top to prevent finger slippage. Though the keyboard is on the small side, it squeezes in a lot of useful keys. You get a dedicated voice command key, an @ key, a whole row with numbers, and a good-size spacebar. There's no '.com' key, but I'll live. I was able to bang out a few long e-mail messages and texts quickly with very few errors.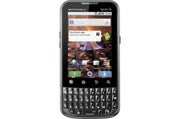 The touch HVGA display is the same size (3.1 inches) and has the same resolution (320 by 480 pixels) as the one on the Droid Pro. Unfortunately that translates into a fairly small, low-resolution screen for a high-end smartphone by today's standards. It's adequate for viewing your inbox or doing casual Web browsing, but you won't want to watch movies or play graphics-heavy games on it.
Beneath the display are the typical Android touch-sensitive buttons: Menu, Home, Back, and Search. The left spine of the XPRT houses the volume rocker and the micro-USB port. On the right spine, you'll find a shortcut button that you can customize for whatever you need frequent and quick access to. To set it up, you just go to Settings, Applications, Quick launch. I programmed this button to launch my inbox.
Ready for Business
The XPRT packs a clutch of features for business users and IT professionals. It has VPN support for multiple profiles, enhanced data encryption for both your phone and your microSD card (this feature won't be rolled out until 2011, however), a built-in task manager (so you don't need to download a third-party manager), remote wipe capabilities, Exchange-based device management, and advanced password protection. You can edit documents via the preinstalled Quick Office Device management application. Because it is a global CDMA/GSM handset, the XPRT can support voice calling and data in over 200 countries worldwide, making it ideal for business users who travel abroad frequently.
The XPRT also has mobile hotspot capabilities, another boon for business users. You can connect up to five devices to the mobile hotspot, and I had no trouble getting my Wi-Fi devices up and running. The XPRT offers complete support for Microsoft Exchange ActiveSync, and it makes accessing your Gmail account–and any other POP3 or IMAP e-mail account–a snap.
Aside from these additional features, the user interface is almost identical to the Motorola Droid 2's. Yes, regrettably, the XPRT ships with Android 2.2 and not the most recent version, 2.3 (Gingerbread).
Mediocre Camera
Like other Motorola phones we've reviewed, the XPRT incorporates a not-very-impressive 5-megapixel camera with dual-LED flash. Motorola's camera user interface isn't my favorite, but you do get a good number of scene modes and effects, plus face detection and geotagging. In my indoor photos, colors looked washed out and details were fuzzy. My outdoor photos fared slightly better, but they weren't especially strong. The camcorder is mediocre, too: My 720-by-480-pixel-resolution videos looked somewhat fuzzy, though the camcorder function is acceptable for capturing short clips.
For your multimedia needs, you get the standard Android media player, which supports MP3, AAC, AAC+, H.263, H.264, and MPEG-4 video and music files.
Performance
Though the XPRT isn't a dual-core phone, its 1GHz TI OMAP processor is beefy enough to keep the phone running smoothly. It easily handled every app I threw at it, and it didn't choke when I multitasked with multiple third-party and native apps.
Call quality over Sprint's 3G network in San Francisco was quite good. My friends on the other end of the line reported that my voice sounded loud and clear, with no distortion or static.
Sprint's 3G coverage in the South Park neighborhood of San Francisco was reliably good. PCWorld's mobile site launched in 9 seconds, and our full site launched in 43 seconds. As we grow accustomed to 4G speeds, this loading period may seem slow, but it's pretty fast for a 3G network.
Bottom Line
The everyday smartphone shopper will probably pass on the XPRT, but its security and enterprise features will please any business or IT professional, and its design is ideal for banging out e-mail and text messages quickly. The display isn't great for video or gaming, however, and the camera is mediocre. If you're looking for a phone on Sprint that can keep you entertained for hours, you might want to check out the HTC EVO 3D.