One screen on your laptop not enough for you? Well, now you can preorder the gScreen SpaceBook, a monster of a laptop with dual 17-inch displays and a price to match.
The gScreen SpaceBook is billed as having the "world's largest laptop screen space," accomplished with the two 1920 by 1080 resolution 17.3-inch displays that slide out like a transformer. Weighing ten pounds and nearly two inches thick, the SpaceBook is definitely bucking the ultraportable — or even plain old portable — laptop trend.
While an innovative device that will turn heads and must have a usage case for some professionals accustomed to dual-screen productivity, the SpaceBook's hardware is less cutting edge. The two models available feature last-generation Intel processors and a bit outdated Nvidia GeForce GTS 250M graphics card with 1GB of video RAM. The SpaceBook 17 i5 4G has the Intel Core i5-560M processor and 4GB of RAM, while the higher end SpaceBook 17 i7 8G features a quad-core Intel Core i7-740QM processor and 8GB of RAM.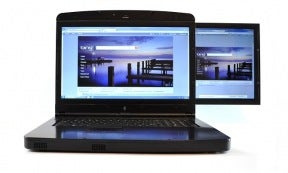 A 500GB hard drive (7200 rpm), DVD multidrive, and smattering of typical ports are also packed in this massive laptop.
How much will having the largest laptop screen space cost? The entry model costs $2,395 and the i7 8G costs $2,795. If money is no object, you can pre-order one of these outrageous laptops now, with a 50 percent down payment.
via This is my next
Follow Melanie Pinola (@melaniepinola) and Today@PCWorld on Twitter