At a Glance
Expert's Rating
Pros
Nice big keyboard
Ships with Gingerbread
Cons
Poor camera
Way too much bloatware
Our Verdict
Keyboard aside, Motorola's latest Droid has a few kinks that need working out for it to be a great phone.
Update (7/22/2011): Motorola sent us a new unit that had significantly less issues than the one we originally received. We have adjusted the review and score accordingly.
As an example of the truism that specs don't always matter, the Droid 3 is it. On paper, this heir to Verizon's Motorola Droid line ($200 with a new 2-year contract as of 7/15/2011) sounded extremely promising: It has a dual-core processor, a 960-by-540-pixel qHD display, and a full QWERTY slide-out keyboard (complete with number row). The specs were enough to have me ready to dump my trusty old Droid Incredible and pick up one of these bad boys.
But after spending some time with the phone, I think I'll be holding onto my Droid Incredible a little longer.
A Great-Looking Phone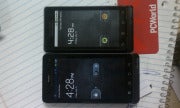 Something I've always like about the Motorola Droid series was the build quality, and the Droid 3 feels extremely well built. At 6.49 ounces, the phone is heavier than either the Droid or the Droid 2, though it's balanced enough that you might not notice the extra weight while holding it. Much of the phone's outer case is composed of a soft plastic that feels pleasant to hold in your hand. The top sliding portion is made of steel, and the sliding mechanism is quite smooth. When upright, the Droid 3 stands slightly taller than its forebears (at 4.9 inches), though it's not much thicker than the original Droid.
Unlike previous versions, the Droid 3 features an additional number row in its full QWERTY keyboard. I found it easy to pound out longer text and email messages, though the keyboard can feel a little clicky at times. Regardless, it is a vast improvement over the keyboards on the Droid and Droid 2.
Though the Droid 3 has a 4-inch qHD (540-by-960-pixel) display, images and text did not look any better than they did on the original Droid. Icons are not particularly sharp, and you can easily see a grid of dots on the screen.
Sadly, the Droid 3 lacks the physical camera button of its predecessors, so you'll be stuck using the touchscreen shutter button to take your photos.
Gingerbread and Bloatware
The Droid 3 ships with the latest version of Gingerbread (Android 2.3.4). It runs the same version of MotoBlur that we saw on the Droid X2, so it's not as bulky as other overlays (such as what we've seen on Samsung or HTC devices). You get five home screens to play with, a handful of widgets, and a customizable dock with this version of MotoBlur, as well as the ability to sort apps in the app drawer by how frequently they are used.
Speaking of apps, the Droid 3 comes with a considerable number of bloatware apps preinstalled. While some of them are useful (such as the Kindle app or GoToMeeting), it's frustrating to know that you can't uninstall things like City ID or NFL Mobile. Luckily, the two game demos (Let's Play Golf and NOVA HD) can be removed, but that Slacker app will forever be stuck on your phone taking up precious application storage space (of which you get only 2GB). The Droid 3 does not come preloaded with the latest version of the Android Market, though it will most likely receive it in the next few weeks.
Performance
The Droid 3 packs a 1GHz dual-core Texas Instruments OMAP processor that makes the phone feel speedy when browsing through menus or scrolling through the home screens. Games ran smoothly, and the phone was quite responsive when tapping around the screen.
My review model of the Droid 3 seemed to have reception issues. One second, I would have full bars; the next, I would barely have any 3G coverage. Loading webpages became a race to see if I could get a page open before my signal dropped and my data speeds slowed to a crawl. Meanwhile, my HTC Droid Incredible maintained its signal strength while using it in the same location.
Call quality on the Droid 3 also had its share of problems. The people I called from our San Francisco offices told me that I sounded muffled, almost as if there was a cloth over my mouth and the phone. The phone also does a poor job at filtering out background noises.
Unlike the upcoming Droid Bionic, the Droid 3 lacks LTE support. That said, it is a world phone (it comes with a preinstalled SIM card), and most of the LTE phones we have seen thus far have suffered from terrible battery life. The Droid 3's battery life is still an issue though; I managed to drop the battery from an 80 percent charge down to only 30 percent in 2 hours of moderate use.
Not for Photographers
Motorola isn't known for its great phone cameras, and the Droid 3 is no exception. Images taken on the 8-megapixel camera came out dark, and all had a blue tint to them. At first I thought the phone's screen was to blame, but the issue persisted when I viewed the photos on my PC's screen. The Droid 3 can shoot 1080p video, but videos also suffered from the blue coloring that plagued photos. Even after tweaking the settings, photos still retained that blue look to them. Surprisingly, I have the impression that the camera on the original Droid took sharper images than the new Droid 3's camera did in our casual tests.
The 0.3-megapixel front-facing camera has better white balance than the rear-facing one, but none of the preinstalled software on the phone took advantage of it. This Droid 3 had no video calling apps, and the stock Google Talk app did not support video chatting.
Other Media
The Droid 3 is DLNA-certified, so you can stream photos, music, and videos to and from any other DLNA-compatible devices you own. The Droid 3 comes with an HDMI-out port so you can share your photos and videos with everyone on a larger HDTV. The Droid 3 uses the standard bare-bones Android audio player app, and music playback is average. It should be noted that the Droid 3 doesn't ship with a microSD card, though you can always add one later.
Conclusion
The Motorola Droid 3 is a disappointment. On paper, Motorola seems to have done everything right: The company put in a fast processor, a high-resolution display, and a great keyboard, and it even loaded the phone with Gingerbread. But when it came time to deliver, it really dropped the ball.
I understand that not everyone cares about bloatware, and not everyone uses their phone to take pictures, but I expected more from Motorola. The screen lacks sharpness, the call quality is subpar, and the phone has reception problems. The keyboard is great, but even that cannot save a phone that has so many other issues and quirks.
I'm sincerely hoping that Motorola learns from these bugs and fixes them before it ships the Bionic next month. As someone who was looking forward to upgrading my phone to the Motorola Droid 3, I think I will be saving my money and waiting to see what else is coming further down the line. I suggest that you do the same.