Windows Phone's next iteration may be called "Windows Phone 7.5 Mango" according to a tweet from Microsoft's official Imagine Cup Twitter account. The tweet, which has since been deleted, answered the question that nobody was asking: Will Microsoft call the update Windows Phone 7.1 or 7.5?

The removed tweet said that all Imagine Cup finalists will receive a phone packed with Mango , which Boy Genius Report seems to think means that we'll see Mango phones released in "late August or early September" to avoid prereleasing phones to the winners.
TechCrunch blogger Greg Kumparak thinks it is just as likely that Microsoft will be handing out "prerelease developer devices" and points out that developer WP7 phones were given out three months before launch to two winners of a development contest in July 2010.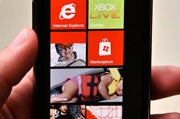 Microsoft employees are already testing Mango internally. Remember, they're all using Windows phones now.
Either way, it is comforting to know that a serious WP hardware and software update is slated for fall. The beta has seen a lot of praise from the tech world and although the software update brings many welcome changes, it probably won't be enough to catch Microsoft up with Android and the iPhone.