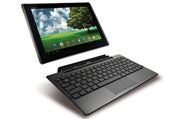 Despite earlier reports that sales of Asus' convertible tablet were slowing, monthly shipments of the Eee Pad Transformer have surpassed 400,000 units per month, according to DigiTimes —making the Transformer the second-best selling tablet after the iPad.
Given the highly crowded tablet market, this is no small feat for Asus; the healthy sales and production forecasts are due in no small part to the Tranformer's attractive price and unique ability to turn into a quasi-laptop with the keyboard dock.
On its own, the Eee Pad Transformer has some attractive features: The 10.1-inch tablet runs the latest Android Honeycomb operating system from Google and uses a dual-core Tegra 2 processor. PCWorld's review of the Asus Eee Pad Transformer revealed that the Transformer's main selling point–the tablet-plus-dock combo–really is both very innovative and satisfying to use. Besides increasing your productivity with the keyboard and USB ports, the dock on the Transformer extends the battery life of the tablet.
That combination of tablet plus keyboard usability, plus the aggressive pricing (around $400 plus $149 for the dock), make the Transformer possibly the first real iPad rival.
DigiTimes reports that Asus is setting a more aggressive tablet shipments goal, another sign that things are looking up for Asus and its dockable tablet.
Follow Melanie Pinola (@melaniepinola) and Today@PCWorld on Twitter