At a Glance
Expert's Rating
Pros
Very good video playback quality
Excellent keyboard with a great feel
Cons
DVD drive's eject button is tiny
Speakers distort at high volume
Our Verdict
HP's dv6 is a classy-looking (though slightly bulky) laptop with a good mix of features for its price.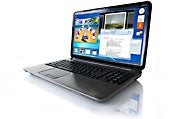 The HP Pavilion dv6 is the company's workhorse consumer laptop, with a 15.6-inch LCD panel and a nearly full-size keyboard. When you first see the dv6, it seems thinner than it really is. The gently curved back surface of the LCD housing hides some of the bulk in the rear, which is thicker than the front of the laptop. In fact, the curves of the entire shell disguise the fact that this notebook is nearly 1.25 inches thick in places.
Even so, at 5 pounds, 12 ounces without the power brick (and a pound heavier with it), the dv6's weight is quite reasonable. At just under $800 as tested (as of July 18, 2011), the dv6 offers an Intel Core i5-2410M Sandy Bridge dual-core CPU, 6GB of DDR3 memory, and a discrete Radeon HD 6490M graphics chip. Overall performance seems quite good for a sub-$800 system, as the dv6 earned a solid score of 117 on WorldBench 6 and lasted nearly 5 hours on our battery-life test with the six-cell battery.
You do give up some amenities to hit that $800 price, however. The LCD panel is 1366 by 768 pixels, a native resolution that's pretty common for the all-purpose laptop class. The hard drive is a 640GB Seagate model that spins at 5400 rpm; it won't win performance awards, but it offers pretty hefty capacity. The recordable-DVD drive is relatively quiet, but its extremely tiny manual eject button makes retrieving discs something of a minor chore.
The keyboard is quite good, offering excellent tactile feedback, sufficient spacing between the Chiclet-style keys, and a discrete numeric keypad. The touchpad works well, and won't pick up floating palms (a good thing). It also supports multitouch gestures, but I found that it can get confused between the scrolling gesture and the magnification gesture while in a Web browser.
Although the dv6 includes a discrete graphics card, it's no gaming powerhouse. In Far Cry 2 in DX10 optimal mode, it managed a scant 28 frames per second, while in 3DMark 2011 it achieved a low score of just 678 on the performance test. If you plan to run current-generation games on the dv6, you'll need to make sacrifices in the detail levels and possibly the resolution to get playable frame rates.
HP didn't skimp on ports with the dv6. For starters, it built in four USB ports, including two USB 3.0-capable ports on the left side; the pair of USB 2.0 connectors are on the right, next to the optical drive. Two audio outputs and one input connector, plus VGA, HDMI, and ethernet, are all installed in the left side of the shell. If you attach a lot of cables, the left side could become a little cluttered. A front slot for SD Cards is also available. Networking is limited to gigabit ethernet and 802.11n Wi-Fi, as the dv6 lacks Bluetooth or 3G/4G support.
Video playback quality is quite strong. WMV high-def clips looked sharp, with nicely saturated colors. DVD upscaling to the native 1366 by 768 resolution was clean, with little visible edge enhancement or noise. The laptop ships with Intel WiDi (wireless display) client software, but you'll need to buy the box that attaches to your HDTV separately.
Audio quality is a bit of a mixed bag, though. Enabling the included Beats Audio processing software definitely improves the sound for DVD movies, but music playback isn't particularly accurate, with too much mid-bass present. (However, you can adjust equalization in the Beats control panel manually, to suit your taste.) I also heard fairly severe distortion coming from the speakers with the volume pumped up during music playback. Even though the audio quality seems a little above average in general, you'll want to use headphones for the best playback.
The software and documentation included are both pretty standard, with HP edging into the online-storage market with HP CloudDrive, an OEM implementation of ZumoDrive. As is typical, you get 2GB free, with tiered pricing for additional storage. Also included is Norton Internet Security trialware, along with other HP tools.
Overall, the HP Pavilion dv6 offers a pleasing package at $800, with a plethora of ports, an excellent keyboard, and a decent display. If you're willing to pay for more options, the package scales up, with features such as a full 1080p panel, Blu-ray, and a higher-end Radeon HD 6770M discrete GPU, but those add-ons will ramp up the price of the system quickly. At $800, this configuration of the dv6 seems to hit a sweet spot.