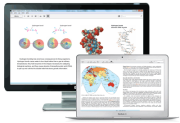 Amazon has introduced e-book textbook rentals just in time for the fall semester, allowing students to save up to 80 percent on some titles. E-textbook rentals can be viewed not just on Amazon's e-reader (and rumored Amazon tablet) but also on any device that can download the Kindle app including PCs, iOS devices, and Android phones and tablets. The rental option isn't available for general interest e-books, just e-book versions of textbooks.
Amazon has long offered kindle versions of textbooks at a discount versus physical books but those e-books have had one major caveat. Students often sell their physical textbooks back at the end of the semester and that cash back gives them a significant break. You can't resell a used Amazon's e-book textbook for extra money.
Students can now rent e-textbooks for periods from 30 to 360 days. Amazon also says that students can extend the rental period or buy its rented textbooks at any time. It's unclear if upgrading from rental to owning would be at a reduced price for renters.
Rented e-textbooks also have a clear advantage over selling physical copies. When you sell back a traditional text book you sell back your notes and highlights with it. Not so with Kindle rentals. Even after your rental runs out Kindle will keep track of your margin notes and highlights for each book so if you ever decide that you want the book back all you have to do is rent it again to get your old copy back, marginalia and all.

Amazon says that its textbook rentals offer up to an 80 percent discount versus buying an e-book version of a textbook and traditional textbooks. We spotted a hardcover textbook selling $183, the e-textbooks selling for $109, and the rental $39. That's a lot of savings for starving college students.