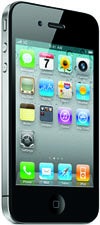 Apple may be preparing to assault the prepaid side of Android with a contract-free iPhone of its own.
According to Boy Genius Report, an anonymous source says Apple plans to launch a prepaid, contractless version of the iPhone 3GS for just $350. BGR also reports that a newer model of the iPhone will be coming out or "at least announced by the end of summer, late August-ish," and that Apple will continue to sell the iPhone 4 alongside the newer model (likely dubbed the iPhone 4S or iPhone 5).
This is no real surprise–in the past, Apple has sold previous-generation iPhones at a reduced price alongside the latest models. This year, however, Apple may reach back two generations and continue selling the iPhone 3GS as a cheap, prepaid alternative–giving Apple the full range of devices, as BGR points out: high- (new iPhone), mid- (iPhone 4), and low-end (iPhone 3GS).
Apple has already demonstrated its willingness to be aggressive with iPhone 3GS pricing: in January, the company started selling the 3GS for just $49 with a two-year AT&T contract. Selling the 3GS for $350 with no contract would give Apple access to a prepaid market which, in the United States, is currently getting lots of love from Android, thanks to offerings such as the Samsung Intercept on Virgin Mobile ($250) and LG Thrive on AT&T ($179).
The standard Apple rumor disclaimer applies: The latest rumor is just one report based on a single unnamed source, but we've heard this song and dance before. In February, the New York Times, Bloomberg, and the Wall Street Journal all reported that Apple was planning a cheaper iPhone, though they disagreed on the size of the handset. The Times speculated that Apple wanted to attack the prepaid market, particularly outside the United States, where carrier subsidies are uncommon. I'd be surprised if this rumor doesn't pan out.
Still, don't expect wireless carriers to make a big deal out of a prepaid iPhone 3GS, even if the rumor proves accurate. They'd much rather lock you into a two-year contract, and if you're okay with that, I'm guessing you'd much rather pay less money up-front for better hardware.
Follow Jared on Facebook and Twitter for even more tech news and commentary.