Although Android is outselling the iPhone by a considerable margin, Apple's smartphone still appears to be the most desired among consumers planning to purchase a device in the next three months.
A survey conducted in June by ChangeWave Research found that 46 percent of buyers would prefer an iPhone, while only 32 percent were gunning for an Android phone. The firm's data has found a marked increase in desirability for the iPhone in the wake of the release of the Verizon iPhone, and it appears to be building.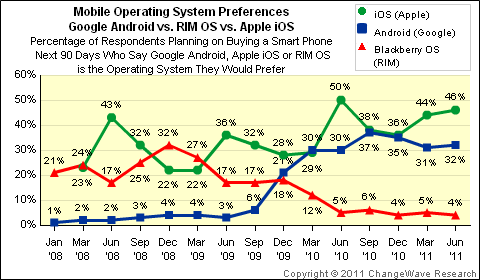 How does this data jibe with market share data, which paints a completely different picture? Well, first of all, it should be noted that ChangeWave's survey measures preference, and there's nothing preventing the respondents from changing their minds at the time of purchase.
And they seem to be changing their minds, if you consider recent data from comScore. According to comScore, Android held 38 percent of the market in May, while Apple's iOS only had about 27 percent.
Another interesting tidbit that ChangeWave researchers found is that consumers have high expectations for iCloud. Twenty-nine percent of current Apple consumers and 13 percent of non-Apple consumers say the cloud-based service will make them more likely to purchase an Apple product in the future.
iPhone users also report being more satisfied with their devices. ChangeWave said that 70 percent of all iPhone users report being "very satisfied" with their phones, while only 50 percent of Android users say the same thing.
This data seems to suggest that while Android is beginning to build a considerable advantage over iOS, there are still chinks in the armor. Customer satisfaction (at least when measured by ChangeWave) has always been lagging, and Android does lack that "killer app."
Even so, Apple's inflexibility when it comes to distribution, and just the simple fact that it is one device versus hundreds — if not thousands — means that it will always be difficult for iOS to keep pace with Android. The odds are simply stacked against it.
For more tech news and commentary, follow Ed on Twitter at @edoswald and on Facebook.