This Wednesday is Lion Wednesday, according to a number of online reports. Apple stores across the United States are rumored to have new Lion-themed in-store display materials and hard drives loaded with OS X 10.7 for a Wednesday morning launch. To get the retail chain ready for the Lion's roar, Apple's retail store employees are working overnight Tuesday, according to 9to5 Mac.
Backing up 9to5 Mac's assertions, MacRumors says Apple stores recently received hard drives carrying the final version of Lion to install the new OS on sales floor computers. Lion would then purportedly launch around 8:30 a.m. Eastern, according to Apple Insider.
Apple has not officially announced when Lion will be available, but with so many launch rumors flying around it seems likely Lion's arrival is imminent. Besides, there are only 12 days left in the month and Apple announced in June that Lion would be out sometime in July.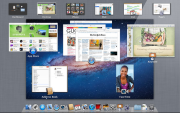 Apple says Lion sports more than 250 new features such as an iOS-like app icon grid called Launchpad, full screen apps and more multitouch gestures. Lion also has updated versions of Apple's core apps such as Mail, iCal and Address Book. Users looking to update their Macs will only be able to get Lion through a download from the Mac App Store for $29.99. Apple released the gold master seed of Lion to developers on July 1. The GM version is typically the near-final version Apple gives to developers before a public release.
Alongside the new version of OS X, Apple is expected to update the MacBook Air lineup with Intel Thunderbolt I/O ports and Sandy Bridge Core processors. MacRumors says the company may refresh the Mac Mini as well. Apple last updated its MacBook Air line up in October 2010 and the Mini's last refresh was in June 2010.
If the company really does release Lion on Wednesday, Apple may be riding high on good news. The company announces its third-quarter earnings for the fiscal year Tuesday afternoon, and, as usual, investors and analysts expect Apple to report another highly profitable quarter.
Connect with Ian Paul (@ianpaul ) and Today@PCWorld on Twitter for the latest tech news and analysis.