They're back! The notorious hacking group LulzSec resurfaced Monday and claimed responsibility for hacking the U.K.'s The Sun website owned by News Corp. Starting at approximately 6:30 ET Monday the visitors to The Sun's website were redirected to Lulzsec's Twitter account page where it posted a tweet erroneously announced the death of Rupert Murdoch, CEO of News Corp., due to the ingestion of "a large quantity of palladium."
"This was the work of Lulz Security, dear media," the group tweeted Monday night. The group also whipped up and linked to a fake version of The Sun's homepage with a false story outlining Murdoch's death (click to view screenshot). LulzSec hackers also posted the alleged username and password of The Sun's network administrator.
To make matters worse for News Corp., on Tuesday news Websites are reporting that LulzSec claims to have a treasure-trove of internal e-mails from Murdoch-owned News International that it plans to release Tuesday. British website The Guardian reports News International's Web-based e-mail system was hacked by LulzSec.
But that wasn't all: while LulzSec was allegedly targeting The Sun and News International, hackers associated with Anonymous are believed to have been busy rendering the website of another British News Corp paper The Times unresponsive. That site failed around 9pm ET Monday, however as of early Tuesday morning appeared to be returning to normal.
One of the Twitter accounts associated with Anonymous didn't appear to take full responsibility for the hack, though. "TANGO DOWN," read the tweet. "To be honest, not quite sure why. Consulting lulzcats say it may be a domino effect like in the Arab world."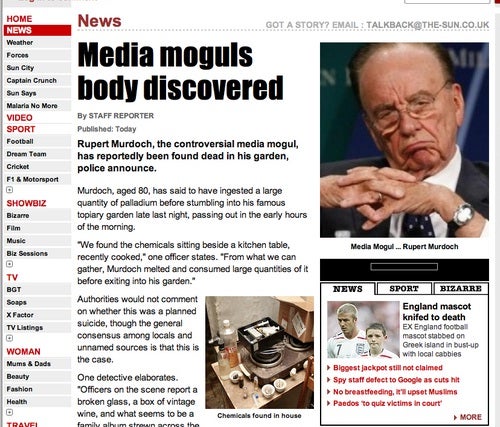 It's not immediately clear whether or not LulzSec's apparent exit from retirement is permanent. However, the @AnonymousIRC twitter account seemed to celebrate the event as a group effort. "We had an awesome day, loud hail to all #AntiSec vessels: WE ARE WINNING," wrote the group.
The hacks come amid an unraveling scandal centering around News Corp.-owned News of the World being accused of hacking the voice mail of hundreds of private U.K. citizens.
For more tech news and commentary, follow Ed on Twitter at @edoswald and on Facebook.