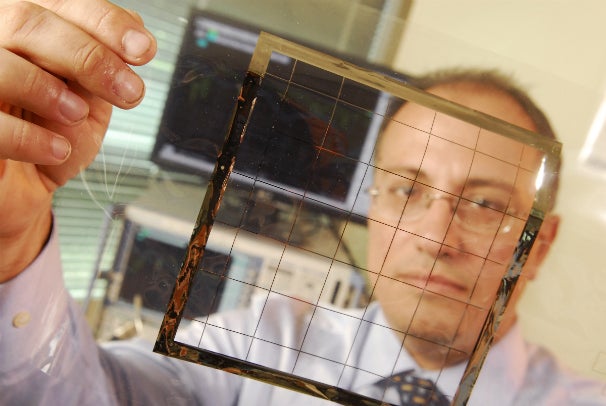 These days, it seems like there are more electromagnetic signals in the air than oxygen, what with television, radio, 4G, Wi-Fi, and satellites all streaming wirelessly around us. Researchers from Georgia Tech have found a way to harvest enough energy from these wireless transmissions to power small electronics.
Manos Tentzeris, a professor in the Georgia Tech School of Electrical and Computer Engineering, led the development of an ultra-wideband rectifying antenna used to convert microwave energy to DC power. This energy-scavenging antenna is made using an inkjet printer to combine sensors, antennas and super-capacitors onto paper or flexible polymers. The process uses silver and other nanoparticles, and is similar to the current manufacture of sensors and antennas.
The researchers demonstrated that the antenna can generate hundreds of microwatts from just TV bands alone. So far, scientists have been able to power a temperature sensor using the transmission energy from a television station half-a-kilometer away. A more powerful system culling energy from a wider spectrum of signal frequencies–anywhere between 100MHz to 15GHz or higher–could generate one milliwatt of electricity or more, which is enough to power microprocessors or sensors.
Researchers say their system could be used by itself as a energy producer or in tandem with solar cells at night. Another possibility is the system could be used with RFID technology, or to send distress signals for other defunct generators and refrigeration systems.
[Georgia Tech Research News via Popular Science]
Like this? You might also enjoy…
Get your GeekTech on: Twitter – Facebook – RSS | Tip us off