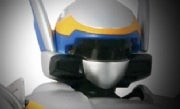 The geek as encountered in pop-culture stereotypes isn't often involved in music, other than the occasional tie to an instrument bigger than s/he is (tubas and cellos are popular). But in Internet-aided reality, nerds make music in a variety of ways that wouldn't even occur to your average garage band.
Take EOL, or End of Life–a robot band consisting of a cello, electric guitar, drumset, and a flatbed scanner. There's not a single human in sight in EOL's most recent music video release, a cover of Marilyn Manson's "The Beautiful People". My only question is, where do robots wear their excessive eyeliner?
If Manson's too mainstream for your tastes, try James Houston's computer hardware assembly that plays Radiohead. Inspired by the lyric "Big ideas: don't get any", the project puts forth an almost avant-garde, distorted version of "Nude", off of Radiohead's 2007 release In Rainbows.
Maybe robots, computer parts, and independent releases are too refined for you. This last video strips it all down to the basics: electricity and video game music. A solid-state Tesla coil can produce enough pitches to recreate the Super Mario theme, as well as the Tetris song.
Got any other nerdily-produced music? Link it in the comments!
Like this? You might also enjoy…
Get your GeekTech on: Twitter - Facebook - RSS | Tip us off