At a Glance
Expert's Rating
Pros
Comfortable keyboard
Integrated Bluetooth
Cons
Generic design
Poor overall performance
Our Verdict
This notebook provides the basics and is easy to work on, but performance is subpar.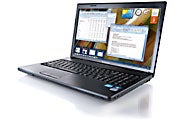 Lenovo's Essential series is its budget-friendly notebook line. Unfortunately, while the Essential G570 performs like a budget laptop, it can often have the price tag of a speedier and more full-featured business laptop. Our review system, as configured, will cost you $750.
The configuration we tested sports a list of components more impressive than most budget machines. Along with the second-generation Intel Core i5-2410M processor, the G570 has 4GB of installed RAM (upgradable to 8GB) and a 500GB hard drive. The G570 also comes packed with integrated Wi-Fi and Bluetooth 2.1.
Unfortunately, the G570's performance leaves something to be desired. In PCWorld's WorldBench 6 test suite, the G570 managed a score of 84. To put that in perspective, the current tenth-ranked laptop on our Top 10 List of All-Purpose Laptops scored 111.
The G570 has no discrete graphics card. Instead, it relies on the integrated graphics of the Intel processor. This is fine for video playback, but not for gaming or other strenuous 3D rendering. In a game like Dirt 2, for example, the G570 managed a barely playable frame rate of 36.5 frames per second only at the lowest settings, including a very low resolution of 800 by 600. In our Far Cry 2 tests, the G570 did much worse, with a frame rate of 19 fps (low-quality settings, 800-by-600-pixel resolution).
Design-wise, the G570 is extremely basic, but it's simple and slick enough to pass off as a generic business laptop. You won't be turning any heads, good or bad, if you're tapping away on this baby. The notebook sports a shiny dark-brown plastic lid, which is plain except for a silver Lenovo logo in the top left corner.
The 15.6-inch notebook feels sturdy, if a bit clunky. The laptop weighs in at 5.3 pounds, and is 1.5 inches thick. Port-wise, the G570 is fairly average for its category, with four USB 2.0 ports (including one combination USB/eSATA), HDMI and VGA outputs, gigabit ethernet, and microphone and headphone jacks. It also has a multi-in-one card slot and a Wi-Fi on/off switch (always a nice touch) located on the front, and a recordable DVD drive on the right side.
Open up the G570, and the interior is unimpressive but attractive. A shiny black bezel surrounds the screen, and the palm rest is made of brushed black aluminum. Two buttons are above the keyboard: a power button, which features an LED-lit dotted power symbol, and a OneKey Recovery button. Hitting the latter will take you to Lenovo's OneKey Recovery screen, which will walk you through backing up your machine and creating recovery discs.
The G570 has a full-sized keyboard with discrete, island-style keys that have slightly rounded bottoms. The keys are a bit smaller than average, but this is one of the more comfortable island-style keyboards I've had the pleasure of using. Lenovo also includes a number pad, which is a nice addition on a 15-inch notebook and doesn't make the keyboard feel too cramped.
Below the keyboard is a medium-sized touchpad indented into the brushed aluminum wristpad. The touchpad has a silver border and a subtle texture of raised dots. It supports multitouch gestures such as pinch to zoom and two-finger scrolling, and gives excellent feedback. Below the touchpad are two discrete mouse buttons, which are big and easy to press.
The G570 sports a 15.6-inch glossy LCD screen. The LED-backlit display makes good on its promise to reduce glare, but off-axis viewing is less than ideal. Viewing the screen from above and below is fine, but viewing it from just a foot to either side drastically diminishes picture quality. The screen is a little too bright, so colors look a little washed out and blacks a little gray.
Lenovo has included some handy software, as well. Aside from the OneKey Recovery suite, there's also DirectShare, which lets you sync files with another laptop using the built-in Bluetooth. You can also protect your laptop using VeriFace facial recognition (through the built-in webcam).
If you're looking for a budget-friendly machine, this version of the Lenovo Essential G570 isn't it. The Essential G570 line starts at an acceptable $450, but that's with an Intel dual-core processor and just 2GB of RAM. Unfortunately, even with all the fancy upgrades and the i5 processor, our review model just doesn't seem to cut it. It has some nice features, such as Bluetooth, an HDMI-out port, and just over 5 hours of battery life (in PCWorld's tests), but performance is subpar.