Got too many icons cluttering your Windows 7 taskbar? That's definitely a possibility these days, especially now that Internet Explorer 9 lets you pin your favorite sites there. If only you could somehow organize those icons, somehow group them together into batches that consume less space and make it easier to find what you're looking for.
Bins is a taskbar manager for Windows 7. With it you can organize your icons into, well, bins, effectively shoehorning four programs, links, or whatever into the space usually occupied by one icon. Take a look: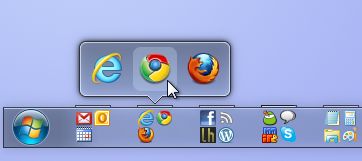 The program requires Windows 7. After installing it, just drag any taskbar icon onto any other taskbar icon. This will produce a little popup area–the "bin"–into which you drop the icon. Repeat the process with other icons, adding up to four to each bin you create.
When you mouse over one of your bins, the pop-up area appears with full-size versions of the icons. If a program is running and you mouse over its icon within the bin, you'll see the usual Aero Peek window (for some programs, anyway–on my system this didn't work with iTunes).
This probably sounds a little more complex than it actually is. I think most users will figure out Bins in a matter of minutes. That said, the program is still in beta, and has the occasional bugs to show for it. For now, it's free, but the developer plans to charge a few bucks for it once it's done.
If you suffer from taskbar icon clutter, you might find Bins will worth the price of admission (assuming it is indeed a few bucks and not, say, $20). At the very least, it's worth checking out.
Contributing Editor Rick Broida writes about business and consumer technology. Ask for help with your PC hassles at hasslefree@pcworld.com, or try the treasure trove of helpful folks in the PC World Community Forums.