Google transformed its homepage this morning to celebrate what would have been the 189th birthday of scientist and "father of genetics" Gregor Mendel. The pea-themed art celebrates Mendel's famous plant experiments on the inheritance of traits. These paved the way for our modern understanding of heredity.
Mendel (born Johann Mendel) was born in the early 19th century in what is now the Czech Republic. He began to train as a priest at the age of 21. Soon after he joined an abbey and took on the name Gregor.
In his new life, Mendel began seven years of extensive experiments using the abbey's experimental garden. Over the course of his experiments, he tested more than 29,000 pea plants in a search for the origins of variation in successive generations of plants. These experiments led to Mendel's two Laws of Inheritance that are still used in our modern explorations of genetics and inheritance.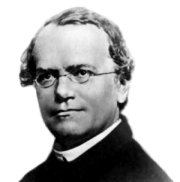 While Mendel's experiments in genetics were groundbreaking, they were largely rejected or ignored by his fellow scientists during his lifetime. It was only in the early twentieth century, as scientists looked for an explanation of inheritance that could mesh with Darwin's theory of natural selection, that Mendel's work was rediscovered and recognized as a vital piece in understanding genetics.
Google has presented some really great Google doodles on its homepage lately, honoring the likes of Les Paul and Martha Graham. If you'd like to see more creativity on the Doodle front, take a look at our slideshow: Most Entertaining Google Doodles.