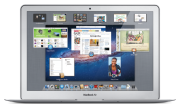 On Wednesday, Apple announced boosted specs for its ultra-slim MacBook Air laptops. The update included second-generation Intel Core i5 processors, new Thunderbolt connectivity, more storage space, and the return of the backlit keyboard. While the refreshed MacBook Air is more powerful than before, Windows users don't have to defect to get a similar laptop option. The upcoming ASUS UX21, the Samsung Series 9, and the Sony Vaio Z are all alternatives to consider.
The Asus UX21 looks like the closest MacBook Air competitor. It's a mere 0.66″ at its thickest (slightly thinner than the Air's 0.68″ height) and has the same 2.4 pound weight, but will be available with a more powerful Core i7 processor option, according to Asus' Campus Life site.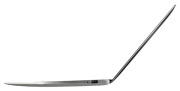 Design-wise, the UX21 sports an all-aluminum body with metal keys and a glass trackpad. Reports say that the UX21, which is expected later this year, will be well under the $1,000 price limit Intel has set for Ultrabooks-making the UX21 a very attractive competitor to the MacBook Air, whose low-end 11.6-inch model starts at $999.
If you can't wait for the UX21, the Samsung Series 9 is the established MacBook Air competitor, available now in both 11-inch and 13-inch models. They're more expensive than Apple's ultra-thin laptops, but the Series 9 has a few small details like a matte screen, super-tough Duralumin body, and an Ethernet jack that may make you appreciate the Series 9 as a possible alternative to the Air.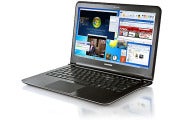 If money's no object and you want more high-end features, consider the Sony VAIO Z, which became available just last week. With the included dock, the VAIO Z gets access to a Blu-ray drive, support for up to four HD displays, and 1GB of dedicated video memory from the AMD Radeon HD graphics card. The VAIO Z also has higher display resolution than both the 11-inch and 13-inch MacBook Air, can be configured with a Core i7 processor, and reportedly lasts up to 16 hours with an optional extra "slice" battery. The downside is that Sony's offering costs about $400 more than the high-end 13-inch MacBook Air.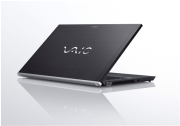 We've previously mentioned several other ultrathin Windows laptops that compared well to the previous MacBook Air version. Apple's latest updates have made the Air much more attractive than many of the competitors. Still, with the three Windows laptops above, you definitely have Windows-based options to the Air for fantastic laptop portability and performance.
Follow Melanie Pinola (@melaniepinola) and Today@PCWorld on Twitter