Tablets are all the rage. You may have started with a smartphone to check email on the go, and then to browse the Web and play Angry Birds; then you started wondering if a bigger screen might be even better. The larger screens of tablets are certainly great for videos, reading, and Web browsing.
But what if a vendor emails you a contract, and you want to sign it right there on the tablet and email it back? Or, once you load up all your textbooks, you start wondering if your paper notebooks can live on the tablet, too. And all those PDF manuals would be even easier to read if you could highlight the important bits. Perhaps having a stylus is not as bad an idea as some have made it out to be.
The good news is that you can get many of the old-school pen capabilities on new tablets, including the iPad. I'll explain how. But first, a bit of background.
Wacom Digitizers and Early Tablet PCs
Have you heard old-school tablet PC users rant about how Windows tablet PCs have had these input capabilities for years? And it's true: Wacom Penabled tablets–which enable precision pen input on-screen–have been on the market for over a decade. Windows XP Tablet edition came out in 2002, with an upgrade in 2005, and there was Windows for Pen Computing before that. These tablets were pen-only, without finger-touch controls. Instead, the pen communicates to a built-in digitizer. This allows for precise controls for drawing and more, telling the computer which pen buttons are pressed, where the pen is touching or hovering, and how hard its nib is pressed.
Wacom's line of Cintiq tablets–basically a monitor with pen input–can detect 1024 levels of pressure differences and even tell which way the pen is tilted. These high-end input devices are used by animation studios to design, model, and animate 3D movies, among other things. A 21-inch Cintiq can run almost $2000, in addition to the desktop PC required to drive it.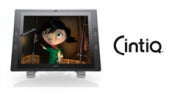 The expense that a Wacom digitizer can add to a tablet PC is no less dramatic, although prices have come down. In the early days, there was at least a $1000 premium for adding a swivel screen and a Wacom digitizer, not to mention the added weight and the hit to battery life. Most options were either convertibles (laptops with screens that flip around and fold down) or slates (lacking a keyboard completely).
Modern Convertibles and Slates
Modern convertibles are coming down in price, and all-day battery life is a reality with low-voltage processors and extended battery options. You can find some less-expensive convertibles targeted to consumers, but they remain bulky and hot, and generally have poor screens. Business-class convertibles aren't in retail stores, but are often highly recommended for their greater durability and better-quality screens. Current front-runners include those by Lenovo, HP, and Fujitsu.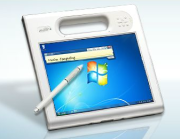 There are also slate-style business tablets that lack keyboards. Some support a pen only, and others, both pen- and finger-touch input. But they are primarily used in places like hospitals and construction sites. Made by the likes of TabletKiosk and Motion Computing, these slates are pricey, with starting prices near $2000 and going up from there. Digital artists have also taken an interest in these devices, which pack Wacom digitizers in a more portable package. Only Wacom, they feel, has digitizers with good drivers for accurate drawing, modeling, and Photoshop work.
Older models are also still popular due to their 4:3 aspect-ratio screens, which are better for working in portrait mode. This aspect ratio, abandoned for the widescreens that can play videos without black bars for laptops, is making a comeback in tablets–most notably in the iPad.
Next page: Moving beyond Windows tablets
What about those of us just looking to sign a document or take notes with diagrams or other simple drawings? What about all those Android tablets and iPads? With the right apps and the right stylus, you can turn any tablet into a digital notepad.
Choose the Right Apps
I turn to Penultimate ($2) for handwriting notes on my iPad. Penultimate has excellent ink smoothing and good palm rejection (ignoring my hand as it rests on the screen to allow only writing from the pen). Sometimes my palm will leave some stray marks, and other times the app will delete my writing thinking it was my palm, but overall, it's comfortable to use, with options for exporting to PDF and sharing via email. Many other apps also see good reviews; another app that deserves a look is NoteTaker HD ($5).
I find the free Maple Paint to be the most frequently recommended app for adding drawings and diagrams, or for writing notes by hand on Android tablets. It supports a keyboard if you'd rather type, and it has many pen tools for the times you need to draw. On my HTC Flyer, I turn to the included Notes app, which syncs to Evernote, but that works only with the n-trig pen (more on that later). Other apps to check out include TabNotes (free to try, $3 to buy) and PenSupremacy ($1.09).
When you need to fill out and sign a PDF form, or just highlight and mark it up, try iAnnotate PDF ($10) for iOS, or RepliGo Reader ($5) on the Android side.
Choose the Right Stylus
A capacitive digitizer (the kind in the iPad and all but the junkiest Android tablets) works when the electrical conductivity of your finger disrupts the current running through the sensor behind the screen. This means the only things a capacitive digitizer can "see" are things that are conductive, like fingers. Special styluses are available that transfer the conductivity of your fingers to a soft foam tip.
The main drawback is that your palm is just as conductive as your finger or the tip of the pen, so it all looks the same to the digitizer, and any palm rejection must be implemented in software. Another thing you lose is pressure sensitivity. That may not matter much for handwriting, but for artists, this can be a deal breaker.
Many cheaper capacitive styluses are floating around, but I have found that they don't register well, or feel sticky on the screen, and don't flow as a pen over paper would. Some higher-quality ones that receive strong reviews include those by Wacom ($30), Pogo ($15), and Targus ($15).
Active Digitizer Options
To overcome the reduced accuracy and lack of pressure sensitivity of a capacitive tablet, consider some options in the dual-digitizer realm. A dual digitizer combines an active pen with capacitive touch. Wacom makes them, but not smaller than 12.1 inches, and the only consumer-focused slate you'll see that digitizer in is the Asus EP121.
N-trig also makes a dual-mode pen and capacitive touch digitizer in two flavors. The older variety became infamous in Dell's initially expensive XT series of convertibles. Subsequent driver updates improved the performance considerably, but first impressions left a sour taste.
N-trig's newer DuoSense digitizer uses a battery-powered pen and comes in a variety of sizes. This cheaper-to-implement solution is finding its way into both Android slates including the HTC Flyer ($499) and the recently announced Lenovo Thinkpad Tablet ($499), and new Windows slates such as the HP Slate 500 ($799), Fujitsu Q550 ($729), and Motion CL900 ($899). Only the Lenovo Thinkpad Tablet and the Motion CL900 have storage for the pen in the tablet.
The tablet market continues to evolve and grow, and the new consumer interest is helping to spur innovation. While old-school digital "inkers" may still not be fully satisfied by the new offerings, many options exist for the casual inker, with many more on the way.
For a trip down memory lane, check out these articles from the release of the first version of Windows XP for tablets in 2002:
Pen-Based Programs Debut With Tablet PC
HTC Flyer Tablet Computer