Last week during Google's quarterly earnings call CEO Larry Page laid out a new vision for the company that seemed to signal that the era of Google Labs was at an end. After years of throwing a lot of projects against the wall to see what sticks, Page said that major priority for the company was focus. Page called the approach "more wood behind fewer arrows."
This new level of focus will mean more support for major Google projects and ideas but it also meant the search giant trim away projects that didn't work. Page tied this new strategy to Google's recent decision to shut down Google Health and Google PowerMeter Services Google introduced to give users easier access to their health care and energy usage information respectively. Now Google Labs is the latest casualty of the "more wood fewer arrows" approach.
In Video: Say Goodbye to Google Labs
It's hard not to feel like we've lost something great as the search giant shuts down Google Labs. Labs launched way back in 2002 and in its almost 10 years of existence it's been responsible for some of Google's biggest services. Even if a lot of the projects from Google Labs never went beyond the test tube, it was still great for Google to establish a breeding ground for strange and wonderful ideas that didn't fit in anywhere else in the organization.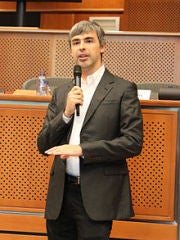 But a second look at Google Labs shows that many of these projects didn't fit anywhere for a reason. It's hard for even the most diehard Labs supporter to stay enthusiastic about lab experiments like DataWiki with the exciting description of "a wiki for structured data." I don't mean to imply that it's all been failures or boring experiments, just that it's important to remember when mourning Google Labs that it's not what it once was.
Still, the highs got pretty high, the project has also been responsible for some enormous successes over the years. Both Gmail and Google Maps originally started as humble lab projects. Recently Google announced Swiffy, a tool that converts Flash files automatically to HTML5. It's also a godsend for stranded iPad users everywhere. In recent years the experiments coming out of Google Labs have been less revolutionary and it's wise of the company to focus on the products that really could make as much of a splash as Gmail.
I agree that Google should give more time and support to some of its big name projects, and I can already see how that strategy has served them well on projects like Google+. With all the ideas that Google throws at the populace it's not surprising they've had trouble finding the resources for all of them.

If Google had been able to put more of its programmers on a project like Google Wave, for instance, then we might still be using it today. Instead, after the company hyped Wave as the next generation of e-mail, Google unceremoniously dumped Wave after less than a year. The technology had promise (it gained quite the following among PCWorld staffers) but with numerous bugs and almost no updates to fix them, the service never really found the audience it needed. Who knows, a more focused Google might even have created something like Google+ right off the bat instead of surprising and annoying Gmail users with Google Buzz.
If you still have a favorite project in Google's Labs all hope isn't lost. Google has said that while it will be quietly shutting down some of the projects currently in the Labs others will find a new life integrated into the search giant's other projects and services.
We've got our own slideshow of our favorite Google Labs experiments but we want to hear from you. What were your favorite Google Labs projects over the years? What do you hope makes the cut as Google transitions into the new era?