Last week, I blogged about a great Android package tracking app called Parcels. In response, a reader suggested I check out an alternative called Shiprack, which adds the ability to send tracking numbers to the app via e-mail. Well, I've checked it out, and here's my take.
Shiprack works very much like Parcels in that it tracks multiple shipments from multiple carriers. It can automatically determine which carrier a particular tracking number belongs to by analyzing the number itself, which gives you one less field to fill in when you're adding a package to track. And, as advertised, it can also automatically find a tracking number within an e-mail, which lets you simply forward any shipping confirmation e-mail directly to packages@ship-rack.com to add a new package to your tracking list.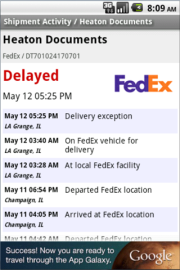 The service is not without its problems, though. Most notably, Shiprack requires that you use a Gmail address in conjunction with the app, purportedly for security purposes. The idea is that it uses Android's built-in Gmail account to verify that you are who you say you are. Unfortunately, the service only accepts e-mail from the Gmail account associated with your app, which means you can't add tracking numbers by sending them from your work e-mail address or any other address besides the Gmail account you've used on your Android phone. Notably, it also doesn't work with Gmail business accounts that have a custom domain, even if such an account is the primary Gmail account on your Android device. Interestingly, when I did try to forward a shipping confirmation e-mail to Shiprack, the service first shot me back a notice that I had used an unauthorized address, and then later sent me a confirmation that my request had been processed and the package was being tracked. The message I took away from this: We're not supposed to be doing this, but we're doing it anyway. Confusing, to say the least.
So, while I was able to test the functionality of the app by using it with a secondary Gmail account I own, I'm not convinced it would do me much good in daily use because it doesn't support my business account (at least not officially). I suspect most users will have a similar problem with Shiprack, since most people don't use their personal Gmail account as their primary business mail.
Shiprack also lacks the intuitive color coding of Parcels, though it does include the logos of the shipping companies within the list of tracked packages.
For reasons I've explained, I don't find Shiprack all that useful for my work, but I like the idea. I can only hope the developer will eventually create a coherent workaround for adding non-Gmail addresses to the service, such as integrating a list of approved addresses in the way Amazon does with the Kindle.