T-Mobile has introduced new plans intended to be more flexible to its customers' needs, a move that can be considered a sign of the company trying to maintain its value proposition in the midst of its proposed merger with AT&T.
All the plans, which debut July 24, require a two-year contract agreement for both new and existing customers. Users will be given a set of voice plan options that include unlimited texting and unlimited data. They will then be able to select a certain amount of high-speed data available in 2GB, 5GB, and 10GB increments.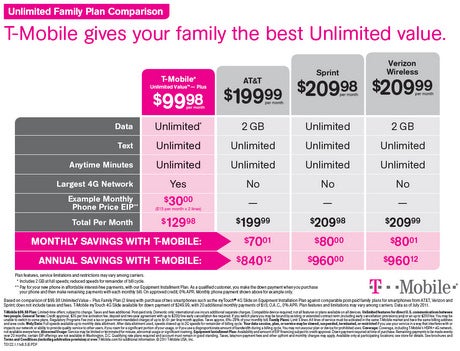 They're just doing it differently
While AT&T and Verizon have done away with their unlimited plans, T-Mobile has not. Instead, it has chosen to throttle data throughput significantly after a set amount of bandwidth. With these new plans users will be able to control where this throttling begins.
This places the price of a plan with two lines with unlimited data and texting, and 2GB of data at $99.98 monthly ($49.99 per line). T-Mobile says that similar plans on AT&T would cost $199.99 with only 2GB of data, Sprint $209.98 with unlimited data, and Verizon $209.99 with a 2GB data cap.
Even adding in a option that allows for consumers to pay off smartphone purchases in installments of $15 per month per line — and frankly, it's confusing how that works — the plans still come in cheaper per month, savings that add up on an annual basis.
Concerns and confusion
T-Mobile appears eager to get rid of overages, and show it is serious about keeping wireless prices down, even as it comes ever closer to being swallowed up by AT&T. The issue of higher prices is something that has worried lawmakers, with some going as far as asking for the rejection of the deal over such concerns.
One thing is clear: T-Mobile really needs to explain how these plans work better, especially the installment plans for buying phones. Why would somebody want to pay full retail price for a device (with a contract to boot), when paying up front would save them hundreds right off the bat?
Is T-Mobile trying to do away with subsidized phones or something? It doesn't make sense to me why somebody would want to do this, regardless of whether the customer is paying no interest with this option.
For more tech news and commentary, follow Ed on Twitter at @edoswald and on Facebook.