LulzSec and Anonymous have breached the servers of some of the most powerful institutions in the world, supposedly in the name of justice. But a frank conversation on Twitter reveals that at least one of the central hacktivist leaders seems to be a jerk.
The Guardian's Charles Arthur made an attempt to interview Sabu, one of the suspected leaders of Anonymous and LulzSec. Sabu often acts as one of the online voices of the hacktivists via the @anonymouSabu handle. What Arthur got was little information, but a whole lot of bravado and name-calling. Even simple, benign questions yielded mockery at every turn. When the reporter asked why Sabu was "so angry," the response was:
"@charlesarthur I'm not angry, son. I'm disappointed with you. I am disappointed that the Guardian has given a voice to a complete charlatan."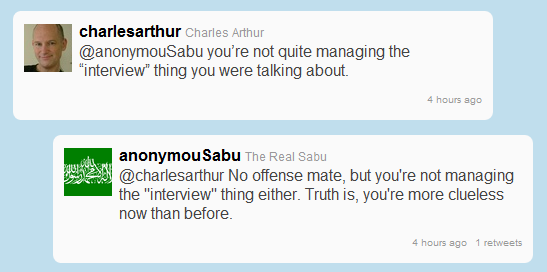 The exchange continues like this for quite a while, with anonymouSabu never revealing anything but contempt for the reporter. It begs the question, are hacktivists really such jerks? Or do they just play them on Twitter?
Shortly after the exchange with Arthur, a joint LulzSec and Anonymous statement went up, directed at the FBI in response to recent arrests of alleged hacktivists. Again, it espoused the groups' high-minded ideals:
"Now let us be clear here, (FBI deputy assistant director) Mr. Chabinsky, while we understand that you and your colleagues may find breaking into websites unacceptable, let us tell you what WE find unacceptable:
Governments lying to their citizens and inducing fear and terror to keep them in control by dismantling their freedom piece by piece.
Corporations aiding and conspiring with said governments while taking advantage at the same time by collecting billions of funds for federal contracts we all know they can't fulfill(sic).
Lobby conglomerates who only follow their agenda to push the profits higher, while at the same time being deeply involved in governments around the world with the only goal to infiltrate and corrupt them enough so the status quo will never change.
These governments and corporations are our enemy. And we will continue to fight them, with all methods we have at our disposal, and that certainly includes breaking into their websites and exposing their lies."
It's a nice, broad statement that can justify just about anything hacktivists could ever do and doesn't really say anything.
Taken together, the latest release and the Guardian's failed interview do reveal one thing: Anonymous and LulzSec have little to gain from having a frank, informative dialogue with the public, except perhaps for a little ego padding. Or, as Rigby Wilson (@Chem2006) said on Twitter in response to the anonymouSabu/Charles Arthur exchange:
"@anonymouSabu @charlesarthur Danger of sabu developing a pompous ego that destroys validity of his quest & leave him same morals as the Sun."

Note: When you purchase something after clicking links in our articles, we may earn a small commission. Read our affiliate link policy for more details.