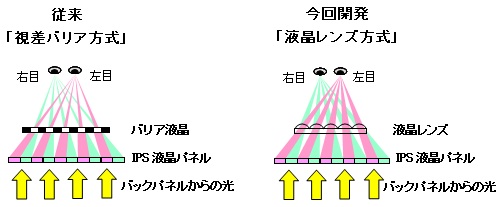 It looks like Hitachi Japan is rolling out a new glasses-less 3D display to blow away smartphone screens. The company announced a new 4.5-inch 3D IPS LCD panel with a 1280 by 720 resolution.
The new screen does not use the partially-screen-blocking parallax barrier method like the EVO 4G 3D. Instead it's using liquid crystal lenses in a lenticular lens system to magnify an image in different angles.
Hitachi claims that its screen, which is intended for phones and portable gaming devices, can show brighter 3D images than its competition. Oddly enough the 470-candela per square meter brightness for displaying 3D is even higher than when the display is showing 2D.
[Hitachi Japan (translated) via Tech Crunch]
Like this? You might also enjoy…
Get your GeekTech on: Twitter – Facebook – RSS | Tip us off