At a Glance
Expert's Rating
Pros
Good performance for the price
Two USB 3.0 Ports
Cons
Lots of "blipping" from the speakers
Unresponsive touchpad, and buttons are hard to press
Our Verdict
A good, well-rounded laptop — not stellar at any one task, but decent at most.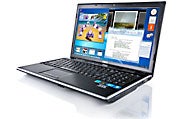 The MSI FX620DX has a few nice features that help it stand out in a bleak, cost-conscious, all-purpose laptop world. Sure, it's no gaming superstar, but the 720p webcam and two USB 3.0 ports are sure to woo some shoppers on a budget.
Our review model, which costs $760, comes packed with one of Intel's second-generation Core processors–the Core i5-2410M, to be exact. Alongside the CPU is 6GB of RAM, a 640GB hard drive, and an Nvidia GeForce GT540M graphics card. Besides the built-in webcam, the FX620DX has a DVD Super-Multi drive, and 802.11n Wi-Fi, also built-in. The FX620DX runs the 64-bit version of Windows 7 Home Premium. That's pretty good power under the hood of such an affordable laptop: In our WorldBench 6 benchmark tests, the FX620DX scored a very reasonable 119.
Another feature is switchable graphics–that means you can conserve battery life and use the integrated Intel graphics, or you can switch over to the discrete, more powerful Nvidia GeForce GT540M graphics card. In PCWorld's graphics tests, the FX620DX managed 43 frames per second while running Dirt 2 (high quality settings, 1024 by 768 resolution). This is by no means stellar, but it's acceptable for a budget-friendly laptop. On low-quality graphics settings at the same resolution, the FX620DX did much better at 97 frames per second.
Design-wise, the FX620DX is pretty basic and even a little cheap-looking. The notebook's cover is made of matte black plastic, with a subtle texture, and is plain aside from the silver MSI logo in the middle. Inside, the wristpad, keyboard, touchpad, and bezel all have different textures–patterned, matte, dotted, and shiny. The effect is a little cluttered.
Six buttons are above the keyboard: an eject button, a button that turns off the screen (but doesn't turn it back on–you have to move the mouse pointer for that), a battery-saving button, a button that lets you configure your Fn keys, a button that switches to Cinema Pro, and the power button. The single button below the keyboard lets you turn off the trackpad–always a nice touch.
The FX620DX has not one, but two USB 3.0 ports, along with one regular USB 2.0 port, plus HDMI and VGA ports, gigabit ethernet, a Kensington lock slot, and headphone and microphone jacks. On the front is an SD card slot.
The keyboard is comfortable and easy to type on. It's an island-style affair with matte black keys and a shiny background. The keys are a bit on the small side, as island-style keys tend to be, but they're not stiff and they give decent feedback. A full number pad is next to the keyboard, but it doesn't feel cramped at all.
Below the keyboard, slightly off-center, is a textured trackpad. The trackpad supports multitouch gestures (such as two-finger scrolling). The trackpad is not quite as smooth as I'd like, perhaps because of the prominent texturing. Below the trackpad is a smooth rocker-bar, which is a little slippery and hard to press.
The FX620DX's glossy 15.6-inch LCD widescreen has a native resolution of 1366 by 768 pixels. The screen has an extremely high maximum brightness, making it pretty ideal for working outside in bright or direct sunlight. Colors occasionally look a little washed out, and blacks could be darker. Viewing the screen from off-axis angles looks good, especially from side to side.
Two speakers are located above the keyboard. Though they're nothing special, they are decently loud and give a full sound. Unfortunately, if you turn the speakers up to maximum volume, you'll hear a lot of blipping–even with the THX-enhanced audio.
The MSI FX620DX is a solid computer with a couple of nice bells and whistles, and it's portable to boot. Though the minimum weight is 5.7 pounds, it feels lighter and easier to carry than the 5.3-pound Lenovo Essential G570. The FX620DX lacks a little in battery life–it managed just under 4.5 hours in our tests–but overall it's a pretty good choice for someone who's looking for a well-rounded machine.