Bodymedia's FIT armband is one of many devices in a new market of calorie counters and activity monitors that promise to help add some hard numbers to your exercise regimen. While Bodymedia's offering is a bit on the expensive side at $249.99 it's also one of the most fully featured on the market.
The monitor attaches to your arm using an armband which lets the various sensors on the device track your calories burned for the day along with your heart-rate, movement (through a pedometer) and even your sleeping habits if you wear it to bed. You can then upload all of this information to the bodymedia website for review later. Or, if you're in a hurry you can use the built in bluetooth module to see how you're doing for the day on Bodymedia's mobile apps (they have both iOS and Android versions available).

While all of this information is fun, at first we found that many of these measurements quickly fall into patterns that make them easy to estimate. Once you've established your base metabolic rate for a day (mine's about 2200 calories for a day with little or no activity) it's fairly easy to estimate how much you burned for the day within about 100 calories. Similarly, the number of steps you take a day as estimated by the pedometer becomes easy to estimate after using the device for a few weeks.
So, $249 is a lot to spend on something that doesn't tell you anything new after the first few weeks so what makes the Bodymedia investment worth it? The answer is the company's website which archives your information from the FIT monitor to let you easily track your progress over time. It also allows you to log all your food for an easy estimation of your calorie intake.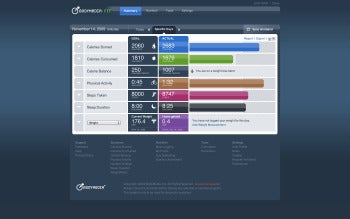 These tools make it easy to set weight loss goals that you can track with ease. In the end, the constant feedback and handy graphs that show your progress toward your goals may do more to help support your fitness plans than the gadget itself.