Two of the five fake Apple Stores that sprouted up in Kunming, China, are being shut down by the Chinese government, but not because they're blatantly violating intellectual property laws. According to Reuters, two of the stores were operating without proper business licenses.
The remaining three — which have nailed the fine details of Apple's official retail outlets, down to signage, employee uniforms, the Genius Bar, and even the employees' false impression that they worked for Apple — remain open. For now.
These loving tributes to Apple's aesthetics were first discovered by American blogger who uses the alias BirdAbroad. And they weren't, as many suspected, selling Hackintoshes or black market iPhone or iPad ripoffs — a popular and lucrative business in China. Rather, the stores sell legit Apple products at full retail prices.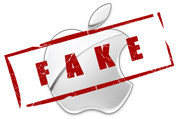 Apple has four official retail stores in China — two in Beijing and two in Shanghai. The Chinese Apple Stores are also some of the most high-traffic and -revenue branches Apple has, outranking even the Fifth Avenue store in New York City.
Clearly, Cupertino should consider building more, or making the Kunming shops part of the other 13 authorized resellers in the district. But given that these phony Apple Stores aren't simply trying to sell Apple products but instead chose to replicate the customer experience of the real deal, chances are the company won't allow them to keep their doors open for much longer.