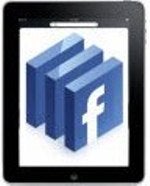 Facebook has shown little interest in putting out an iPad app since the device first launched, but it turns out one has been out there for a while. A Canadian engineering student found the code for the tablet app hidden inside the iPhone app and noted it on Twitter.
The masses have been clamoring for a Facebook iPad app, but the company has seemed more interested in promoting the cause of HTML5. Earlier this summer it was reported that an iPad app was finally imminent, but then . . . nothing. But now it appears Facebook has indeed been hard at work on a tablet version.
It is possible to run the hidden app, but to do so requires some pretty technical knowledge and violating some of Apple's user rules (read: jailbreaking). Early reviews of the "leaked" version have been pretty positive.
Techcrunch posted a gallery of screen captures that shows the app to be elegant, and with an interesting left-side navigation bar that looks to be a big improvement over the sometimes clunky process of getting around on the iPhone app. Numerous icons are also found along the top of the app to guide users.
The app is also similar to MyPad, a third-party creation that has become the de facto iPad app for Facebook. MyPad still has the advantage of also providing Twitter access, but one has to wonder what will become of it once Facebook releases this.
Techcrunch also reports a source says the hidden code is in fact what Facebook plans to release soon. We'll see if the company pushes that release up due to this leak, but one thing is for sure – Facebook must be happy to have finally stolen the buzz back from Google+, if only for a second.