30 Days With the iPad: Day 23
Taking pictures on the iPad 2 using the rear-facing camera leaves a lot to be desired, but the iPad 2 is also equipped with a front-facing camera. Today, I take a look at how to put the tablet's front camera to work.
The front camera can be used to snap a picture of yourself in case you need a new profile headshot for a Facebook account or something. It will do the trick, but like the rear-facing camera, it is not the highest quality picture in the world.
The iPad 2 comes pre-loaded with two apps specifically designed for the front-facing camera. The first is Photo Booth. This app has absolutely no real purpose. It is a collection of filters that twist and warp your image like a carnival house of mirrors. My 5 year old still gets great enjoyment out of stretching, squeezing, and twirling pictures of her head, but the novelty wore off for me after about five minutes. I am not really sure why Apple bothered including this app with the iPad 2.
The second app is much more practical. FaceTime actually puts the front-facing camera to productive use to enable you to video chat with any other FaceTime user. Although Apple has created FaceTime as an open standard, the only devices I am aware of that actually use FaceTime are iOS devices–specifically iOS devices with front facing cameras such as the iPhone 4, iPad 2, and latest generation of the iPod Touch.
I have a couple of issues with FaceTime. First, the FaceTime account is associated with an AppleID, and you can't use the same one on more than one device. I already have FaceTime on my iPhone 4 using my main AppleID, so I had to use a new email address to create a second AppleID for my iPad 2 just for FaceTime. If I also had an iPod Touch with FaceTime, I'd have to create yet another AppleID.
Instant messaging tools, social networking accounts, and tools like Skype all manage to let me connect simultaneously from multiple devices without forcing me to create multiple personas. Apple should recognize that many users will have more than one FaceTime-capable device and work that issue out.
Second, FaceTime doesn't work over 3G. It seems to have something to do with the limited bandwidth and inability to reliably deliver smooth video. I get it. Apple wants to ensure a solid user experience. But, it's my device, and it's my 3G data plan, so it seems a tad arbitrary. For what it's worth, if you are not averse to jailbreaking your iOS device, there are ways to hack it so that FaceTime will work on 3G.
As nice as FaceTime is, the fact that it only works with other FaceTime-capable iOS devices severely limits its use as a business tool. Thankfully, there are apps like WebEx for iPad, and Fuze Meeting that take advantage of the front-facing camera for more productive purposes.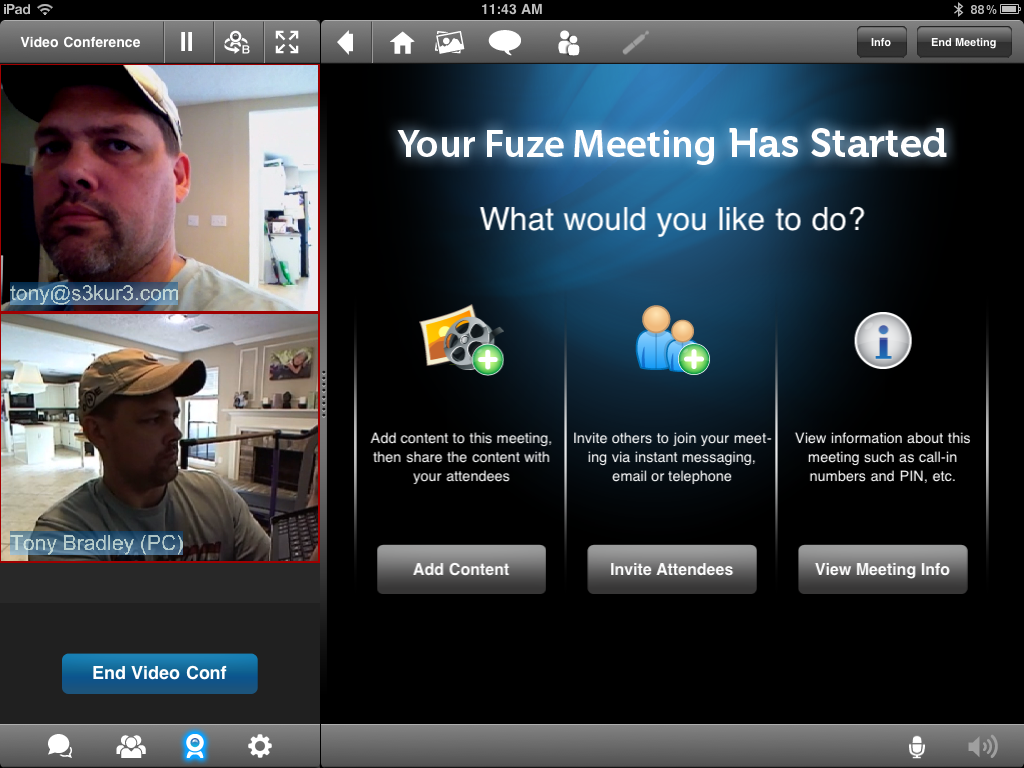 I am not going to go into a whole review of these apps (I have taken a closer look at Fuze Meeting in the past). Suffice it to say, the audio and video quality are quite nice, but obviously dependent on the speed and quality of your wireless connection.
There are two things I find lacking when it comes to video conferencing or video chat with the iPad 2. I'd like some control over the camera like I have on my webcam connected to my notebook. The ability to zoom in or out, or pan slightly left, right, up, or down would be nice.
Lighting was my biggest issue. Without some way to adjust the brightness and contrast of the image, I often find myself backlit and difficult to see. The lack of controls for the camera itself mean that I have to turn my physical position and/or the angle of the iPad 2 to try and capture the best possible lighting.
The other issue I have is with holding the iPad 2 during a video chat or conference. Because of the placement of the camera (at the top of the iPad 2 when in portrait mode), getting the tablet at the proper angle to center my head in the frame is sometimes tricky.
The iPad 2 is thin and light, but holding it for a video conference that could last an hour or more is a bit tedious, and it ties up your hands so you can't do anything else productive–like taking notes–during the meeting. Using my Logitech Keyboard Case makes for a much better experience because it props the iPad up. Then it's just a matter of finding the right angle and direction to sit in order to be properly framed with decent lighting.
Although I have my complaints about the front-facing camera on the iPad 2, I think it is possibly the most important improvement over the original iPad, and it is significantly better–at least for its intended purpose–than the rear-facing camera.
Read the last "30 Days" series: 30 Days With Ubuntu Linux
Day 22: Pictures and Photo Editing on the iPad