An issue that had simmered for several weeks boiled over this weekend, as Google apparently accelerated deletions of Google+ accounts over the site's requirement that members use their real names.
Google+ members started complaining about this situation about a week after Google launched the social networking site in late June, and over the past three weeks, various Google officials have addressed the issue.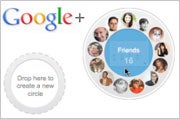 For example, on July 11, Google+ Community Manager Natalie Villalobos tackled the complaints in the site's official discussion forum, reiterating the policy and explaining the process for appealing a deletion.
Still, the gripes have continued flowing in to the official Google+ discussion board and in other forums like Twitter and personal blogs, reaching a crescendo this weekend when Google zapped the accounts of some high-profile users, as ZDNet blogger Violet Blue reported.
The complaints fall into two categories. There is one group of affected users who claim they're using their real names, and apparently got their Google+ account deleted because they have unconventional names or their names contain foreign-language characters or letters.
Then there is another camp of people who want to use a pseudonym because they don't want to reveal their real name for privacy reasons.
The controversy echoes a concurrent one with public figures and companies that have set up Google+ business profiles, which currently are forbidden and which Google is also deleting. Google hopes to allow business profilesat some point in the coming months.
Google didn't immediately respond to a request for comment.
Still in Beta
There are currently about 20 million Google+ members. The service is in a limited beta trial and members can only join if they are invited by Google or by existing members.
Google+ is one of the company's most important projects. After a series of misfires in the social networking space, Google has high hopes that Google+ will finally let the company give Facebook a run for its money.
Google maintains that Google+'s content sharing features and privacy settings are better and easier to use than Facebook's, and that this will prompt a massive defection of Facebook users.
For now, Facebook remains by far the most popular social networking site in the world with 750 million members and counting.