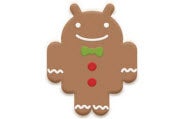 AT&T customers who bought Android phones introduced in 2011 will soon receive an upgrade to Android 2.3 (Gingerbread), the carrier announced today.
The Android 2.2 phones scheduled for a Gingerbread update include the HTC Inspire 4G; LG Phoenix; Motorola Atrix 4G; Pantech Crossover; Samsung Captivate; and Samsung Infuse 4G.
Atrix 4G users will start getting the Android 2.3 update today. Inspire 4G customers will get Gingerbread "in the coming weeks," AT&T said.
Android 2.3 adds some worthy enhancements, including a boost in smartphone performance, better battery life, a cleaner interface, an improved on-screen keyboard with multi-touch support, and easier-to-use copy/paste tools.
The Facebook-friendly HTC Status, which debuted earlier this month, was the first AT&T smartphone to run Android 2.3.
Gingerbread has been slow in coming to Android phones in the U.S. Computerworld blogger JR Raphael keeps an up-to date list of which phones have gotten–or are scheduled to get– version 2.3.
Other U.S. carriers are gradually upgrading their Android handsets too.
Verizon Wireless, for instance, began sending Gingerbread to the Motorola Droid X on May 27, and to a limited number of Droid Incredible 2 phones on July 11. Sprint, meanwhile, made Android 2.3 available to HTC EVO Shift 4G users on June 16. And on July 19, T-Mobile announced the start of a limited Gingerbread rollout to some MyTouch 4G customers.
For a more detailed look at which Android phones are slated to get Gingerbread, check out JR's blog.