Editor's note: Former computer security consultant Anil Polat has set a goal of traveling the world indefinitely, while blogging about his tech-fueled experiences at foxnomad.com. Given his on-the-go lifestyle, Polat has strong feelings about what to look for in digital tagalongs. Here's what he recommends.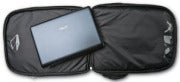 Laptop bag or backpack: You'll need something to carry all your gadgetalia. Checkpoint-friendly bags let you zoom through airport security without having to remove your laptop–just open the bag, place it on the conveyor belt, and let the TSA's X-ray machines do the rest. I'm a fan of light, easy-to-carry backpacks, like the one shown here from Targus.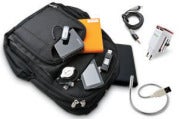 Laptop: Weight and size are typically a traveler's most pressing concerns. A solid netbook addresses both issues, giving you all the computer you need without hurting your back. Compact components also mean that the machine has less room for parts to wiggle around, which means there's less to break while you're trekking around India. Based on durability, price, and weight/size, I'm partial to Asus Eee netbooks and Dell netbooks in the Mini 10 line.
Ethernet cable: Many hotels have ethernet jacks that allow you to bypass all of the potential flakiness of so many wireless connections. Many airports (hint, hint: JFK) don't advertise that they too have their fair share of jacks hiding around certain terminals, opening up the possibility of free Internet via wire. A handy little retractable ethernet cable could be just what you need.
Portable battery: Need to use a backup battery during the day? Have to recharge your phone when it's out of juice? The i.Sound Portable Power Max can charge up to five USB devices at one time, even when you have no access to a plug.
USB drive: Keep all of your important digital documents and files in a separate USB drive (16GB should cover you) in case your laptop's hard drive dies on the road. You should encrypt passport scans, client documents, and the like to protect yourself even further. On USB drives you can also carry around portable operating systems, which give you a safe virtual environment in many Internet cafés.
E-reader: You certainly don't want to schlep around a bagful of books, which is why e-readers are such perfect traveling companions. These days I like the Nook Color.
Bluetooth headset: You'll want to consider both sound quality and comfort when you're selecting a headset. You probably already have one, but if not (or if you're considering an upgrade), take a look at PCWorld's comparison of eight top Bluetooth headset models.

Stereo audio cable: Many rental cars these days have 'Aux' outlets that let you plug your iPod or other portable music player directly into the radio. Buy a cable at any Radio Shack or online, and save yourself from fumbling for new radio stations as you're driving. You'll be able to listen to what you know you'll enjoy–without increasing your chances of an accident.

Microfiber cloth: The world is a dusty place; unless you regularly clean your devices, they'll accumulate grime quickly, increasing the chance that a rogue dust particle will ruin your best gadgets. A proper microfiber cloth and cleaning solution (less than 3 ounces, of course) are the only things you should use to wipe down your sensitive screens. I'm partial to the cleaning kit from iKlear.

All-in-one plug adapter: Rather than wasting your time looking up outlet types or taking the risk of forgetting an outlet adapter altogether, throw one of these in your bag and leave it there. It will cover you for plugging in just about anywhere in the world. I've had success with the inexpensive, if unimaginatively named, International Adaptor All-in-One, while the $30 iGo Dual USB Charger and World Adapter (shown here) has the same functionality and throws in two USB ports for good measure.

USB light: A lightweight, LED light illuminates your e-reader or laptop–it's a useful accessory, since you'll never know what kind of lighting conditions you'll encounter. The $6 Flex Light by Manhattan draws very little power and coils up to take minimal space.

USB wireless antenna: Improve your wireless reach and snag all of those Wi-Fi connections that are just out of range with an extender, such as the Alfa USB wireless adapter shown here.
USB travel charger adapter: Chances are, your laptop doesn't have more than a few USB ports. These adapters let you plug in your USB-charged devices directly into a wall socket. Another benefit: faster charge times. One adapter from Eforcity (not shown), priced at about $2, is hard to beat.
Individual power adapters: Why do you need these if you already have an all-in-one adapter? Because sometimes you'll need to plug in more than one device. Also, many wall sockets aren't completely firm, and individual adapters are usually light enough to prevent your charger from continually falling out of the outlet. Lenmar's five-piece adapter set (not shown) is just $11.

Portable travel strip: You'll often need more outlets than your hotel room offers, so it makes sense to bring a few of your own along. This diminutive Outlets to Go Power Strip from Monster Cable has three AC outlets, plus a USB port for charging your electronics.
Unlocked mobile phone: Though unlocking a phone will typically break your manufacturer's warranty, a locked phone means you'll pay for roaming charges internationally. An unlocked phone allows you to swap out any old SIM card around the world, saving you considerable money for talking and browsing the Web anywhere.

USB multiport hub: This four-legged beastie from Octopus Design turns one USB port into four, since you can never have enough.
Extra SD Card for your camera: SD Cards, like all other storage devices, have a limited life span, and like many electronic devices they tend to go bad at the worst possible time. An extra, emergency card will set you back about $10 to $20, but it could save you the nightmare of missing wonderful opportunities to catch, say, a sunset in Fiji.
Veteran globetrotter Anil Polat plans to visit every country on the planet. The author of the ebook The Ultimate Tech Guide for Travelers, he blogs about travel and technology.