Google's iOS Books app that was quietly removed from the Apple App Store over the weekend reappeared late Monday, fully compliant with the new App Store rules. The Google Books iOS app, introduced in December, is now in line with Apple's newly enforced rules that ban links bypassing Apple's own in-app purchase mechanism.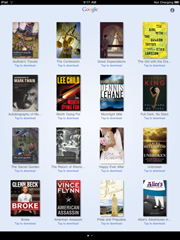 The Google Books app allowed users to read books from Google's e-books service, as well as provide access to a Web-based version of the store. But under widely debated new Apple rules, companies like Google, Amazon or Kobo have to give Apple a 30 percent cut of their sales via iOS, by implementing Apple's in-app purchasing system, rather than keeping all proceeds to themselves with their own in-app sales systems.
Amazon was one of the first major players to bow down to Apple's rules (and power, controlling 220 million iOS devices), and updated the Kindle iOS app and removed a button that linked to the Kindle Store on the Web. At the same time, Amazon made it more inconvenient for users of the app to buy content from its store (via Safari), but at least this way it is not sharing 30 percent of sales with Apple. Barnes & Noble's Nook app and Kobo's e-reader app have had similar changes made.
After Google Books vanished over the weekend (it's unclear whether it was pulled by Apple or Google), Google also succumbed to Apple's new rules, and the Google Books app reappeared, with the once-prominent "Get eBooks" link removed. The updated app offers little if any instructions on how to buy books, and in the words of TechCrunch's John Biggs, "They've also, in the process, rendered the app nearly useless to a confused reader."
No big company has so far publicly challenged Apple's new App Store rules, but publishers have found ways to bypass them, even at the cost of customer convenience. The Financial Times, which has a profitable pay wall, changed its strategy from native iOS apps to tablet-formatted Web apps, while others such as The Wall Street Journal, have complied with the rules and just removed external sales links from their apps, rather than give in to Apple's hopes to adopt in-app purchasing and give out a cut of the profit.
Follow Daniel Ionescu and Today @ PCWorld on Twitter