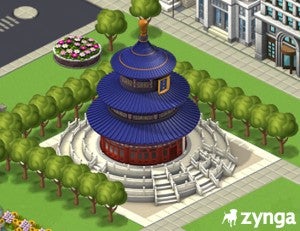 Facebook's social gaming uber-star Zynga says it'll reach around the globe and join hands with Internet service provider Tencent to bring a localized version of its mega-popular sim-style game CityVille to China. CityVille, as U.S. Facebook gamers know, is one of Zynga's biggest casual-social games. To play, gamers draft virtual cities, farm surrounding areas, and earn income by collecting rent. The game launched in December 2010 to instant hit status, displacing Zynga's FarmVille juggernaut for "most monthly active users" inside of a month.
To make a splash in China, Zynga picked Tencent to channel the game, one of the country's top Internet portals and a company whose China-based instant messaging platform (dubbed "QQ") boasts 673.4 million users according to a March 31, 2011 count.
The Chinese version of CityVille will function on Tencent's "Open Platform" and constitute ones of the largest launches to date by a third-party—and the first international social game developer—to use Tencent's services. Tencent had until recently employed a proprietary architecture, but promised to open its doors late last November after a high profile fracas with Qihoo 360, China's third largest Internet service network.
"Tencent's Open Platform has made a lot of progress after its launching one month ago," said Lin Songtao, General Manager of Tencent Open Platform in a statement. "The launch of the new cross platform application center and integrated services such as brand-new cross-platform APP centers, Tencent's cloud service that uses APP console as a window, data statistical analysis, self-help advertising, virtual currency's payment capacity and gross settlement capability, are all bringing real value and strong support to the partners and developers of the Open Platform."
Songato says those features are what allow Tencent to "operate such big games successfully in such a short time."
We'll see how it goes. Since Facebook's presence in China is essentially nil at this point, the Chinese version of CityVille will launch in beta on Tencent's Pengyou platform first, followed by a broader launch at some undisclosed future date. The game itself has been localized and includes aesthetic changes designed to appeal to Chinese players, including cultural holidays and other mechanics, like the ability to send street peddlers to friends' cities (I don't know what about that makes it uniquely Chinese, but it's what's in the press release).
And assuming a smooth launch, Zynga stands to profit immeasurably. While CityVille is free-to-play, it's also what's known as a "freemium" game. That is, players can optionally spend real-world money. According to the L.A. Times, market research firm Parks Associates puts the number of U.S. gamers who spend money in social games at between 2 and 4 percent. Those numbers sound small, until you factor the population size of a game like CityVille, which in the U.S. racked up over 100 million active users within a month of launch.
Interact with Game On: Twitter – Facebook – Get in touch