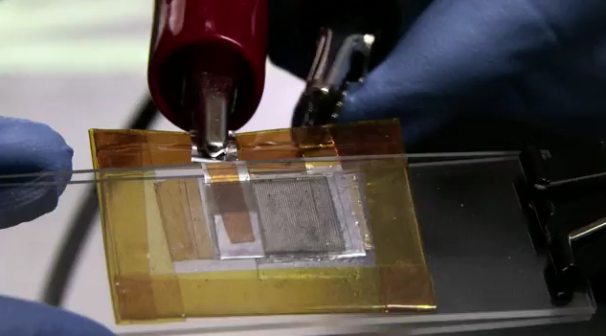 Stanford University researchers have created transparent batteries, the final piece for completely see-through devices.
The team of researchers led by Yi Cui developed a battery using a cheap three-step process. First, a grid is formed using polydimethylsiloxane (PDMS), a liquid transparent silicone polymer that is typically found in contact lenses. The PDMS is then poured over a silicon wafer and cured to form grid-patterned trenches.
The material is non-conductive, so the researches evaporate a metal film over the grids. The final piece is a liquid solution containing minuscule, nano-sized active electrode materials that are dripped through the trenches.
The resulting sheet is thin and round with a visible rectangular shape being the batteries. The sections are cut out of the sheet and stacked with clear gel electrolyte in between each layer. With three-stacked battery layers, the entire cell remains at approximately 60 percent transparency and is also highly flexible.
The transparent batteries you see don't hold much power, according to ExtremeTech: A battery with a transparency level between 50 and 80 percent could store between a third and a half of the energy of an ordinary battery of the same size. Cui says that adding more electrode layers would allow the battery to compete with regular batteries, but at the cost of transparency.
Cui believes we could see transparent batteries in consumer devices in the next two to four years. We've seen see-through screens before, so transparent devices–such as tablets, e-readers, and phones–aren't complete fantasy. Besides looking cool, a transparent device could bring augmented reality to devices without requiring a camera.
Would you like a transparent phone? Leave a comment.
[Stanford University News via ExtremeTech and New Scientist]
Like this? You might also enjoy…
Get your GeekTech on: Twitter – Facebook – RSS | Tip us off