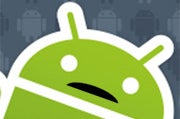 Most would guess iPads outsell Android tablets, but it may come as a surprise to you to learn just how much Apple is dominating Google in the tablet wars. There have been some interesting discussions popping up on the Internet based on Google's recent quarterly earnings call where Google CEO Larry Page pinned the number of total Android devices on the market at 130 million.
That number sounds impressive but a little number crunching by Daring Fireball's John Gruber triggered tablet pundits at The Next Web and AppDevice to come to the conclusion Google's tablet sales have been abysmal – so far.
True, Android market share growth in the mobile arena is impressive. But looking only at the number of Android tablets you discover Google has sold only one million compared to Apple's 28 million iPads sold.
Out of all of those Android devices only .9 percent of them have a 7" or larger screen to qualify them as a tablet device, Gruber points out. That means the total Android Tablet market is somewhere in the neighborhood of 1.17 million tablets. That's not even 5 percent of Apple's iPad sales. That number gets even more depressing when you consider the multitude of Android tablets on the market those sales are split among.
Of course Google's a relative late arrival on the Tablet scene and it only started to make a real push to optimized Android as a tablet OS with its Honeycomb release earlier this year. Perhaps the best is still to come for the Android platform.