In the last month, two family members and one friend have had laptops stolen right out of their homes. Sadly, none of the systems were equipped with remote-monitoring software–unlike the folks we profiled last month in "Laptop Thieves Punk'd! Six Amazing Recovery Stories." Unfortunately, their chances of getting their laptops back are just about zero.
To me this serves as a wake-up call; I'm in the process of evaluating various laptop-recovery services to see which one I should deploy on my own machines.
Short-term, I'm equipping my primary, can't-live-without-it laptop with LockItTight. Like similar services, it relies on a small, hidden client program that performs location tracking, Webcam captures, file recovery, and even keylogging. Unlike similar services, LockItTight is free–for one PC, anyway.
After you sign up for and activate your account, you download and run the LockItTight client (which is compatible with Windows XP and later). And that's pretty much the last you see of it; you won't find any evidence of it in the system tray or Programs menu. (Neither will tech-savvy thieves, which is exactly the point.)
To tweak LockItTight's settings and/or find out what your laptop's been up to, you sign into your account via a Web browser. By default, the client will simply report the laptop's position (usually via Wi-Fi, which in my tests was accurate to about 500 meters), but you can also enable screen capture, Webcam capture, key logs, clipboard logs, remote file retrieval, and remote file deletion.
Pretty neat, eh? Alas, if there's no Internet connection, there's no data for LockItTight to gather–so there's no guarantee this will help you locate your stolen system. (If it does, make sure to let the police handle the recovery.) But it's a damn sight better than nothing.
The other catch: LockItTight Free limits you to one device and will report its location only every two hours. If you want more devices and more frequent reporting, you'll need a paid account. LockItTight Standard, for example, costs $1.99 per month per device, and reports location every 12 minutes. It also boosts the screenshot and Webcam capture resolutions.
There are lots of other laptop-recovery services out there, so I recommend doing some research before deciding which one to entrust with your laptop's safety. That said, I definitely recommend choosing one of them–because there's nothing worse than sitting there wishing your stolen machine had a way to "phone home." With a remote-monitoring system like this, it can.
Add an Uninstall Option to Windows' Context Menu
Here's a hassle that drives me nuts: Whenever I want to uninstall a program, I have to venture into Windows' Control Panel, find the uninstall tool, wait for it to show a complete list of my installed programs, scroll through the list to find the program I want to remove, and then start the process. That's about four steps too many, in my humble opinion.
LeizerSoft's MenuUninstaller adds a feature that should have been built into Windows five versions ago: an Uninstall option that appears in the context menu when you right-click the icon for any installed program. Doesn't matter if the icon is on your desktop or in the Start Menu–just right-click and choose Uninstall. That should start the program's associated uninstaller.
Note that I said "should." On my Windows 7 system, MenuUninstaller kept crashing–until I followed the instructions on LeizerSoft's support page and enabled the "Run as administrator" option for the program. That did the trick.
MenuUninstaller is compatible with Windows XP, Vista, and 7. It's freeware!
Of course, I'm sure some readers will point out that many programs can be uninstalled fairly easily via their Start Menu entries–but that still involves a bit of clicking and searching. And not every program adds its uninstaller to Start.
You also have the option of using a dedicated utility like Revo Uninstaller, which often does a better job removing all traces of a program than the developer's own uninstaller. But even that can be slow to load up all your programs, and you still have to search for the one you want.
No, I'm definitely liking MenuUninstaller, which puts the uninstall option in the single most logical place.
Organize Your Windows 7 Taskbar Icons Into Bins
Got too many icons cluttering your Windows 7 taskbar? That's definitely a possibility these days, especially now that Internet Explorer 9 lets you pin your favorite sites there. If only you could somehow organize those icons, group them together into batches that consume less space and make it easier to find what you're looking for.
Bins is a taskbar manager for Windows 7. With it you can organize your icons into, well, bins, effectively shoehorning four programs, links, or whatever into the space usually occupied by one icon. Take a look: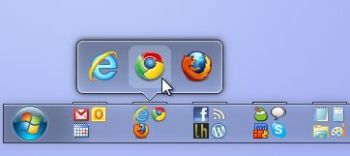 After installing it, just drag any taskbar icon onto any other taskbar icon. This will produce a little popup area–the "bin"–into which you drop the icon. Repeat the process with other icons, adding up to four to each bin you create.
When you mouse over one of your bins, the pop-up area appears with full-size versions of the icons. If a program is running and you mouse over its icon within the bin, you'll see the usual Aero Peek window (for some programs, anyway–on my system this didn't work with iTunes).
This probably sounds a little more complex than it actually is. I think most users will figure out Bins in a matter of minutes. That said, the program is still in beta, and has the occasional bugs to show for it. For now, it's free, but the developer plans to charge a few bucks for it once it's done.
If you've got a hassle that needs solving, send it my way. I can't promise a response, but I'll definitely read every e-mail I get–and do my best to address at least some of them in the PCWorld Hassle-Free PC blog . My 411: hasslefree@pcworld.com . You can also sign up to have the Hassle-Free PC newsletter e-mailed to you each week .