The company formerly known as Pixazza has rebranded itself as Luminate and launched a new platform to help turn all the Web's images into mini-apps. It's cool technology with plenty of potential, but it seems destined to become the next thing to spam up the Web even more.
The concept is fairly simple. Publishers sign up with Luminate to make their images interactive. Through a combination of algorithms and some actual humans tagging up pictures, information is added to images. When a reader rolls over the image more information is revealed about that part of the picture, including links to further information or products for purchase. There's also a menu in the corner of the image with more in-image apps, although for now they're mostly sharing features that link to Facebook, Twitter or e-mail, but the company says more apps are coming.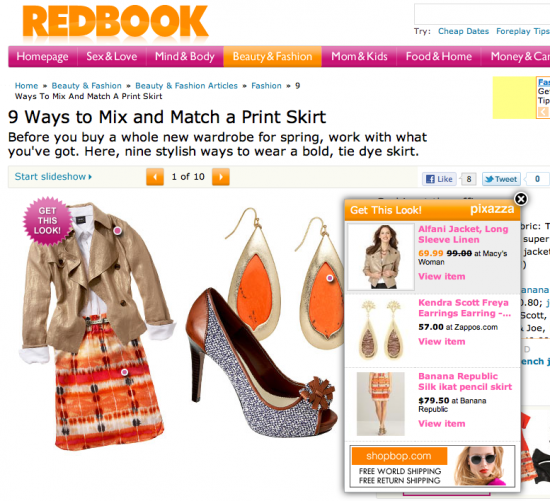 As Pixazza, the company worked with entertainment and gossip sites for a while, building up a roster of 4,000 publishers using the technology, mostly to provide in-image shopping links for whatever a certain celebrity might be wearing in a picture.
"Image apps transform images from static pixels into interactive experiences," says Bob Lisbonne, the company's chief executive. "Just as phones evolved from merely voice calls to smartphones with apps, now consumers can enjoy relevant apps inside every online image. The explosive use of images fueled by mobile, social, and cloud computing trends sets the stage for Luminate's pioneering new image apps platform."
In other words, Lisbonne is tired of simply selling handbags to the celeb-obsessed. He wants all the Web's images to be more "illuminating," hence the rebranding. The problem is, the altruistic notion of turning every image on the Web into an app without selling them a handbag each time dilutes the potential revenue the company could make. It's as though a car company announced it was rebranding itself with the new goal of providing everyone in the world with a vehicle — some of the cars will be free and some won't, just so long as everyone gets a car.
Of course, it's much easier and cheaper to stick some code on an image than it is to build a car, so surely Luminate can spare some time and change to app-up some images around the Web pro bono. But in the end, it's all about click-throughs to places that want to sell us stuff.